Star Featured Patterns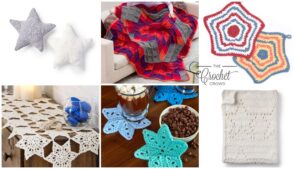 Stars are probably one of my favourite shapes in general, let alone to create the star baby blanket has to be one project I really enjoy working up.
As a kid I can remember lying out in the yard just staring at the stars at night thinking how huge the sky really was, it was so peaceful so mesmerizing and they were just so pretty to look at.
Much like the stars as with crochet, there is so much to see, so much to learn and it's pretty to look at. This collection of patterns is a tribute to those stary nights and my favourite shape there are definitely a couple of patterns I plan on working up myself. Happy Stitching!
---
Crochet Star of the Show Baby Blanket Pattern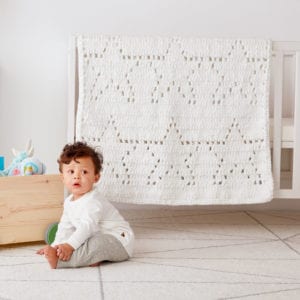 Looking for a baby blanket that is simple but timeless, This is the Crochet Star of the Show Baby Blanket. Using any one of the Bernat® Baby Blanket™ colours this blanket is so soft and cozy it will undoubtedly be your favourite cuddle blanket.
A filet crochet concept of stars being incorporated into a baby blanket. There is a crochet diagram included to show you what stitches to skip to have this concept.


Tutorial
Crochet Star Coaster Pattern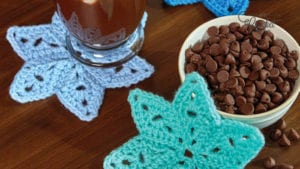 This Red Heart Star Coaster is super pretty, in this colour picture, I use a coaster all the time by the spot where I sit although the kids quite often steal them to wrap around their freezes. This pattern is defiantly one I'm going to wip up a few to have on hand.
Each section is made up of 6 sections that only require 2 rounds each. You could get away with 5 sides instead of 6. It's for you to decide which you prefer.
Mikey made a working diagram to make it easier, you can download a copy of his notes. Just a heads up though it's just tutorial notes, nothing official in computer format. You can print out a copy if you like.


Working Diagram
You can download the diagram here, or click the picture below. You will see this used in the tutorial to guide your stitchwork.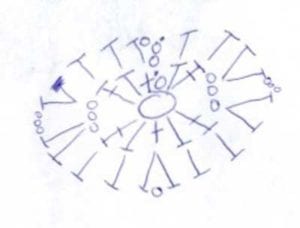 Tutorial
Crochet Twilight Star Pillows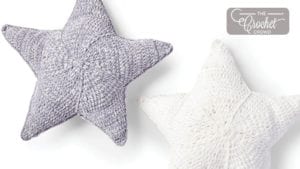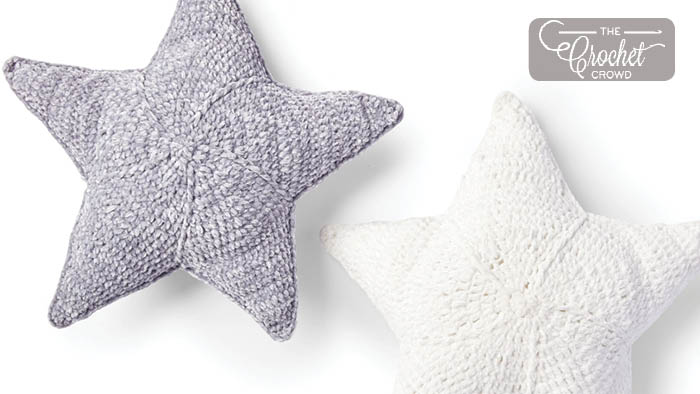 These are super cute pillows using Bernat Baby Velvet yarn, they are called the Crochet Twinkle Star Pillows. Made using the Bernat® Baby Velvet™ it's such a plush lovely yarn.
There are two faces that are sewn together with a stuffing inside to form the plush look and feel. These would look great in a child's room, and make a great gift.


Crochet Star Table Runner Pattern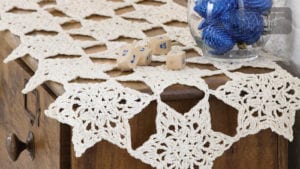 This Star Table Runner pattern is so pretty and would go well with the Star Coaster. It's so delicate looking how can you not love it and want to work it up in and of the very pretty AUNT LYDIA'S® Fashion colours. There was actually a colour I was eyeing up in the store a few months ago, that if I could find a pattern perfect for it, I would be back for it. I think I found it!  I have a couple of stands that I have runners on that I like to change out every now and then by the time I get this runner done it will be time. This would make a lovely wedding gift idea, as well as a nice craft show item.


Crochet Stripy Star Dishcloth Pattern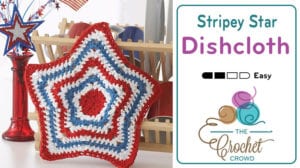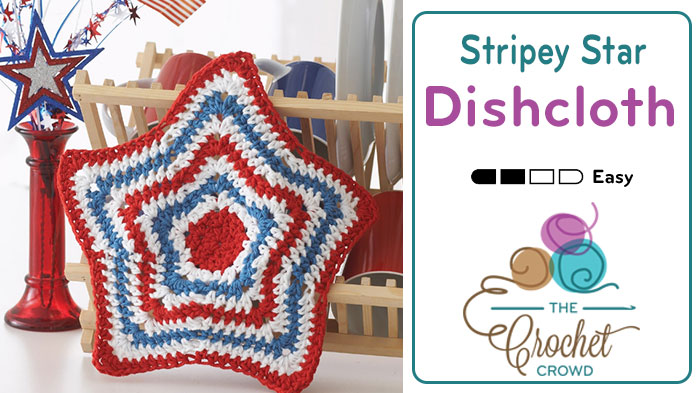 The Crochet Stripey Star Dishcloth is a fun little dishcloth to work up for washing dishes or to use in the shower. It would also look cute under a plant pot, A great little craft show item.
This is an easy pattern of a 4 point star. The colours are changed strategically to give the Americanized Look if using Red White and Blue. Play with the colours or work up this pattern in a solid colour if you would prefer.


Crochet Desert Star Throw Pattern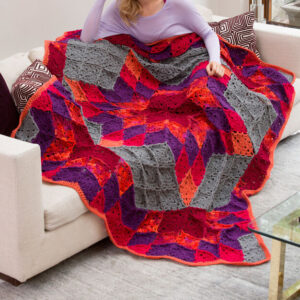 This one although it's most likely above my level of ability is one I really want to give a go. The Desert Star Throw is absolutely breathtaking. There are a diagram and layout included to help you out, thankfully. This is one I'm pretty excited to give it a go I may frog many times but it's one of those ones I will be so happy I tried.
This Desert Star Throw pattern was Designed by Marilyn Coleman & Mary Jane Protus Revised by Bobbi Anderson made using RED HEART® Super Saver® the biggest challenge will be which colours to pick there are so many pretty colours to play with!


Pattern Suggestions
Crochet Pattern Ideas