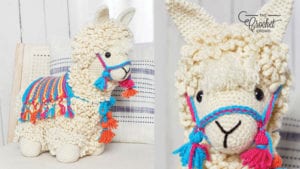 Llama-No-Drama Stitch Along
The Llama-No-Drama is an excellent crochet artistry amigurumi example from Yarnspirations. Designed by Nancy Anderson for Red Heart.
This a HUGE pattern and the best way to attack a great pattern, such as this, is to go step by step in increments. There are learning opportunities with this one that includes the Fur Stitch repeat pattern.


Pattern Suggestions
Pattern Shown on Video
The pattern on the video is an old copy. The pattern was updated to a new format which is the one-button above. If you want to follow the video exactly as shown, download this version. This is the Original Crochet Llama Version. It is exactly the same pattern just with different round numbers.


Upon review, this adorable and sure to get your friends and family members looking at you as an artist will surprise you on how big this is. It's 14.5" tall x 11" long. It's not a stuffie to get stuff between the cracks of the could.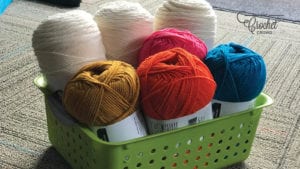 To prepare for this stitch along:
3 Balls Red Heart With Love Aran. You technically only need a bit of Tigerlily, Blue Hawaii, Hot Pink, Daffodil and just a strand of black.
1 Pair, 15 mm pure black safety eyes.
Stitch Markers.
Stuffing. It's pretty big, start with 1 small bag of stuffing and buy more at a later date if you need it. You will want to stuff this firmly.
A mini box to store your supplies as you crochet this as you will have animal parts being created to assemble later on.
You may want to buy an umbrella as your friends may shower you with compliments. 
Currently
I am sure some of the parts may be a challenge that could create drama but hey, you are crocheting a Llama-No-Drama. So just hook to it and let's hook up our very first adorable llamas.
The complete pattern is available to start at any time. The point of the stitch along is to break up the pattern so the entire community is stitching together.
Video Presentation Goals
The project has been broken up into segments that are more digestible so that crocheters can finish with having milestones.
Materials List - Dec 20th
Review of Magic Ring - Dec 24th
Fur Stitch & Tips - Dec 25th
Head & Neck (Safety Eyes Needed) - Jan 1st, 2020
Body - Jan 8th, 2020
Legs, Tail, and Ears - Jan 15th, 2020
Halter, Bangs & Blanket, Jan 22, 2020
Review on How to Sew, Jan 23, 2020
Entries begin Jan 23 to Mar 31st, 2020
Llama-No-Drama Video Series
Stuffing and Sewing Musical Montage Demonstrations
Week 1: Head and Neck
Week 2 Body
Week 3 Legs, Tail and Ears
Week 4 Halter, Tassels and Blanket - Releasing Jan 22, 2020


---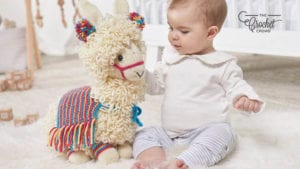 Knit Version
There is a knit version of the Llama-No-Drama. I'm not skilled enough in knitting to teach this as a Stitch Along or even regular tutorial.


Giveaways
This project already exists. Some crocheters may have already done this project. The work for those crocheters has already been put into this project.
Existing Llamas should be completed as written. As stated below, you can change the colours or the yarn but to be fair to all entries, the project instructions (stitch-wise must be the same). If you have decided to add more character or embellishments, it will qualify.
3 Giveaways
Each giveaway also includes the complete collection of Crochet Crowd Pins (3 Pins each) and 1 Official Crochet Crowd Yarn Tote. Value $35.00
We will also provide a sampling of yarn inside the tote for your added stitching pleasure.
Shipping to your home is also provided.
General Guidelines
There is no sign up required to participate. Complete the project and email your photo when you are done. This challenge is open to all Crochet Crowd Community Members.
You may use any yarn you wish. You may create any colour scheme. Use as many or as little colours as you prefer.
You may do as many projects as you wish. If multiple entries are identical, a picture showing the projects together to prove there are multiple must be included with your submissions.
We require your photo to show the entire project so we know the entire project is done. Ensure your project is completely finished with yarn tails and etc not showing. It's like giving it out as a gift, we want to see the photo showing as if you were gifting us the finished product. This way we know you are completely done.
If you are changing your hook size or yarn, we are still looking for the pattern to be the same.
All photos must be submitted during the challenge time frame only. Entries after this due date will be accepted for our gallery but there are no prize giveaways after the deadline.
Your Choice: Post your finished project on The Crochet Crowd Facebook Page to show everyone your finished work so we can drool over your creativity.
When you email your finished photo to us, we respect your privacy and will only post your first and last name on the picture in our gallery with the photo so we can identify the winner at the end.
Featuring on Facebook is dependent on you. We do not upload your emailed photos to Facebook. You have to do that yourself if you want to Show N Tell your creativity.
We are not responsible for undelivered email and/or late entries to qualify for the prize.
Due to the countless technology platforms and services, we are not responsible for any of our challengers if mobile devices or technology that isn't compliant to being able to read our website, view our videos and/or get access to the free patterns.
All applicable federal, state and local laws and regulations apply. Void where prohibited or restricted by law.
Please verify your entry is in our gallery prior to our draw. We need up to 4 days to get your entry into our gallery. We upload it ourselves as part of our review process. If you do not see your entry, we most likely haven't received your email. Do not wait until after the draw to check if your entry is in. 
This is intended for a fun community challenge only. We each are deserving of the highest praise possible for our own creativity. Let's have fun.

How to Submit
Please read the guidelines below to understand what we are looking for.
Send your photo to us through email to [email protected]
Use Subject Line: Llama
In the email leave us the following information.

Your Full Name
Your Mailing Address

We will not be adding your name or email to our database.
We are accepting entries from Jan 7, 2020, to March 30th, 2020 at 11:00 pm ADT. 
You can email at any time. 
We will email you if something is questioned in your photo.
You will not hear from us if your email didn't get to us. So if you don't see your entry after 4 days of submission, it means we haven't received it.
Past Stitch Alongs