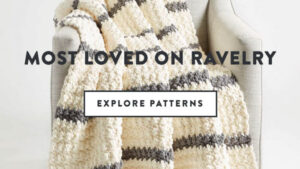 Ravelry has the advantage of being global but also a different genre of yarn lovers across the spectrum. From country to country, our interests vary. Presenting the 25 Most Loved Patterns on Ravelry. These patterns are showcased on Yarnspirations and voted with hearts by Ravelry members.
I think I am most captivated by the simplicity in the choices that the Ravelry Community chooses. I always see Ravelry from a more posh point of view. It's actually refreshing for me. Never underestimate the power of simplicity.
I am loving that the Snuggle Sack Rocket Ship is on the list. It's one of my all-time favourites from Yarnspirations. I squealed when I saw it. I loved making it. The tutorial was a lot of fun to make.
More Ideas

More Collections