Crochet Octopus Pattern Round-Up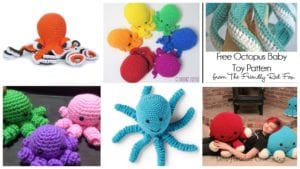 The Octopus is a very popular crochet pattern right now. They work up really cute so what's not to love with these cute little creatures. There are so many different patterns and sizes that you can find online. It can seem a bit overwhelming trying to find the perfect one. From ones for preemies to giant pillow ones, they are such a cute critter in any size. A very talented friend of mine made the large one using Bernat Blanket it was the cutest not so little creature instantly I jumped on the bandwagon and wanted to make one.
---
Crochet Preemie Crochet Octopus Pattern
This is one of our own patterns. This cute little Crochet Preemie Octopus Pattern is an easy project using Red Heart Bunches Of Love. One ball will make about 5 of the octopus.
It's a lovely stuffie to make up that doesn't take long if you are looking to donate to your local hospital, but make sure to check with them first in order to properly follow safety guidelines.
Make one up in all of the colours and have a colourful octopus family of your own, a great little surprise gift for any youngsters that may visit your home.

Tutorial
---
More Free Patterns
---
Crochet Octavia The Octopus Pattern
Made with Lily Sugar'N Cream how cute is this lifelike looking Crochet Octavia The Octopus Pattern.
 It would look amazing if you have a room in your home that had an under the sea theme in it! Or simply if you or someone you know just loves octopuses.

---
Crochet Giant Squishy Octopus Pattern
I love this Giant Squishy Octopus made by The Left-Handed Crocheter. It has to be one of my favorite crochet octopus patterns.
Made with Bernat Blanket it's so huggable and loveable soft and wonderful. It's definitely one you have to add to your list it's already on mine!


---
Crochet Amigurumi Octopus Baby Toy Free Pattern
In this Octopus Baby Toy Free Pattern made by The Friendly Red Fox she added a rattle for a fun little baby toy, how cute is that! You could easily make it without the rattle as well.
Made using Red Heart With Love it's such a nice and soft year that this will be a well-loved octopus by anyone who receives it.


---
Crochet Mini Amigurumi Octopus Tutorial Pattern
This little Mini Amigurumi Octopus is so stinking adorable, follow the video and make up a bunch of these cute little critters for cat toys or kids toys their a quick easy stash-busting project.


---
Crochet No-Sew Octopus Pattern
You had me at no-sew! Check out this Crochet No-Sew Octopus Pattern Designed by K Hook Creations using any worsted weight yarn another great stash-busting project. Play with colours and see what kind of fun combinations you can come up with.


---
A Few More Pattern Suggestions