Learn to Crochet A Classy Cowl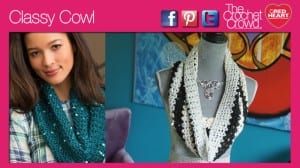 With a touch of Swanky Yarn by Red Heart that has built-in sequins, this cowl is sure to be a crochet and knit pleaser.
Swanky Yarn is a really fun yarn with built-in teardrop sequins into the yarn. Currently, there are 7 different shades of Swanky. Choose from colours such as:
Berry Glamorous
Chiffon
Midnight Blue
Purple Panache
Sterling
Tealessence
Tuxedo
This pattern is really simple with just v-stitches. You will see a close up in the video tutorial to help you see the stitches better. Once you get how quickly and easy this is to crochet, you may have just found yourself a fun little project to work on.
Get the free pattern, it's called Classy Crochet Cowl.


Pattern Suggestions
Follow the Video Tutorial
Crochet Cowl Pattern Ideas