Corner to Corner Afghan Project
Corner to Corner Afghans is really popular right now. They are easy to follow and create. What appeals to everyone is the speed at which they can be done. You start off at one point and work diagonally across. When you get to the halfway point and want to start decreasing your rows, you will find yourself speeding up tremendously. It's like going slow up the hill of a roller coaster and then getting to the top and zipping down the other side.
NEW – Updated Sept 2021 to included Half Double Crochet Patterns for Rectangles, Squares and border. See below. 


On behalf of Red Heart, this video was created to help Red Heart's followers to be able to do the pattern. This pattern was created by Catherine Watson.
In this project, you will realize your afghan doesn't have to be square. We immediately think Corner to Corner means square. In the video tutorial, I will show you how to create both square and rectangular versions. I will show you how to change colour without ugly knots as well.
Alternative Corner to Corner Half Double Crochet
You can also half double crochet instead of double crochet for corner to corner. There is a small change to make that happen. Included above are the diagrams for rectangle, square and border.
---
Pattern Suggestions
Mikey's Version
In the video, you saw Mikey do an introduction using a Purplish version of this afghan. Remember, Mikey followed the directions as per the original pattern. He opted not to do a border.
Mikey used Red Heart Boutique Midnight. 8 balls of Aura and 4 Balls of Moonlight.
His afghan measured 44″ square.
He used a size of 6.0 mm, Crochet Hook.
In Mikey's version, he didn't strategize the stripes. He just changed the colour of the yarn ball at his own whim. Play with this idea with slow transitioning colour yarn like what Mikey did. You may be amazed by how it comes out.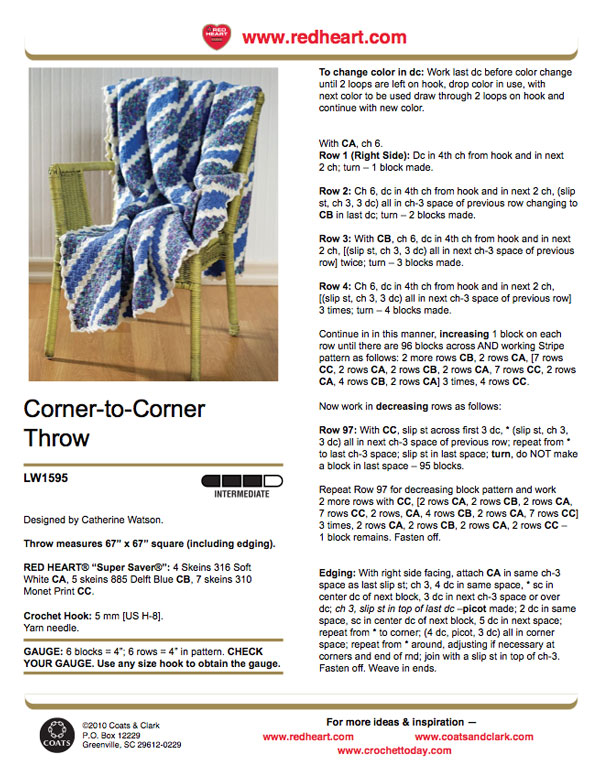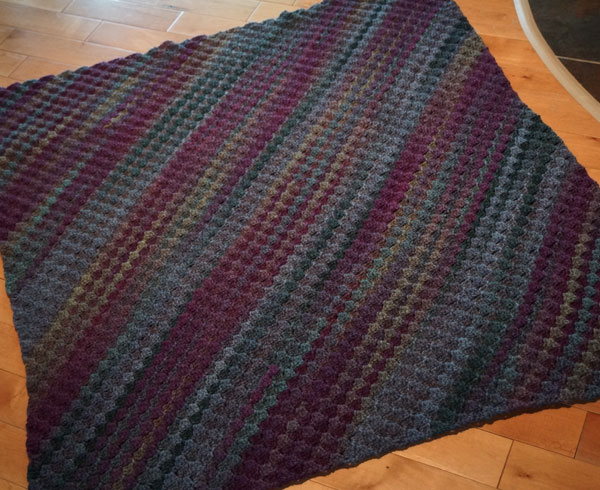 Click Here to Get Free Pattern
 Tutorial
More C2C Patterns
©2013 The Crochet Crowd, Michael Sellick