Peg Leg Pete Pirate Doll
I crocheted a pirate to bring with me on The Crochet Cruises as our mascot. Peg Leg Pete is a combination of skill-building from other projects, picture research and understanding stitches. See links in red for the patterns we have listed.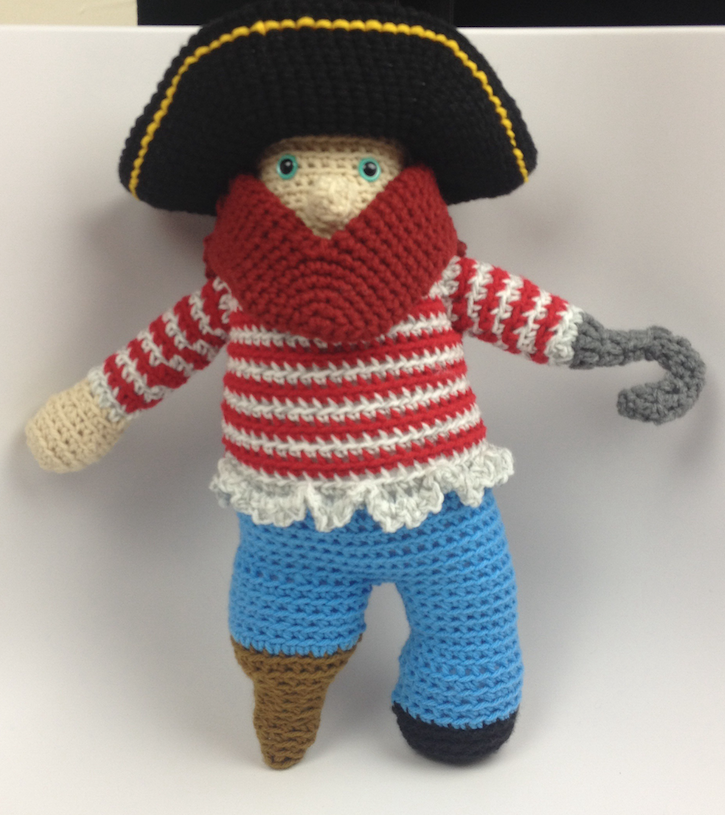 Research
Firstly, I researched common colours for pirates on Google. I wanted to see ideas for their outfits. I was originally thinking Johnny Depp but decided that may be too hard for me to pull off as my skills in amigurumi (crochet doll making) are not very strong.
Looking into my past, I have done two major projects in person as well as video format. One was the My Toy Giraffe and the other was Mike The Monster.
In the My Toy Giraffe project, we learned how to increase and decrease when doing the head and body. This gave me a clue how to how to change shapes for Pete's peg leg, upper body and arms.
In the Mike the Monster project, we learned how to make add ons and do the toes and fingers to appear like the project is solid when, in fact, it's an add on.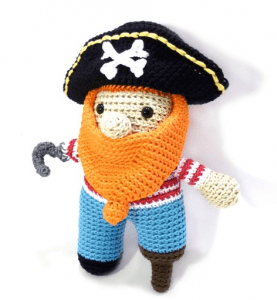 I really like 3D, so I wanted the hat and beard to look 3D. I looked at different ideas. My research led me to a blog called Animation. You will see that Ahoy, amis and Pete are similar.

The Ahoy, amis version is not the complete doll. The complete doll is actually done in Leprechaun Style and is by Stacey Trock of Fresh Stitches where the Ahoy Pirate's feature is an add on to the basic design of the doll.

Free patterns for the hat, peg leg and hook hand are provided by Animation. The issue is that because it's an add on, you cannot figure out the size of the doll size. You need to purchase the Leprechaun Pattern for only $5 and suddenly all of the pieces can come together.
Figuring out the math to make this work is worth $5.
Altering the Pattern for My Purposes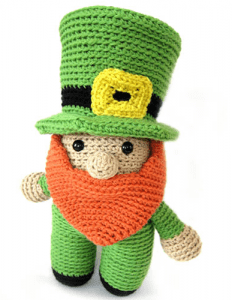 The original Leprechaun Doll was 12″ high but I wanted something bigger. So what I did was to change some of the rounds of the legs, body, head and arms to extend his height. I used a slightly bigger hook to make my stitches expand.
For those who are thinking they can create a new pattern by just changing a few elements as I did. I've got news for you… what I have done is altered the pattern but it isn't enough to say the new dimensions I created is a brand new pattern that is my own. The idea was by Stacey Trock where she has done mathematics. The free pattern port by Animation is free, what more could you want?
You won't see my write out my pattern because my pattern is a combination of two patterns where I have just made small changes for my own purposes.
Pattern Suggestions
Crocheting this Doll
There are 7 components that make up this doll. 2 legs, 2 arms, nose, beard and hat. I changed up the beard completely to what I wanted for my character.
This doll took me 3 evenings in total:
Legs and Full Body
Beard and Hat
2 Arms and Final Sewing Together
If you missed my direct links:
Crochet Amigurumi Pattern Ideas