She is introducing Quackers the Crochet Duck, a new pattern by Sarah from Repeat Crafter Me. This 15" cuddly duck is just oozing with cuteness.
I love this. I am a regular passenger on Celebrity Cruise Line, where the ducks are a thing to hide. You place your name on the rubber ducks, and other passengers find, keep or hide. They decide. This duck has meaning for me.
The pattern is just three pages and extremely easy to follow. I have provided a tutorial that will be available to all. My version is slightly different as I didn't have the 20 mm eyes Sarah does. I have to order on Amazon and put it in my shopping cart, and I have added more stuff to my online shopping. I can only find Amigurumi Eyes online, where I live.
Sarah has a new book out in Spring 2023 called Crochet Cute Forest Friends. You can see many more in her new book if you love this design. Check it out. It's a terrific investment in creativity.
Mikey's version has 40 mm eyes with a bit of white yarn by Bernat Blanket.
Create a magic loop. Place 6 sc inside loop. Do not join.
2. 2 sc in each sc around.
3. *2 sc in the next st, 1 sc in the next. Rep * around. Fasten off.
Secure safety eye to the whites of the yes. You can position the eyes at any time.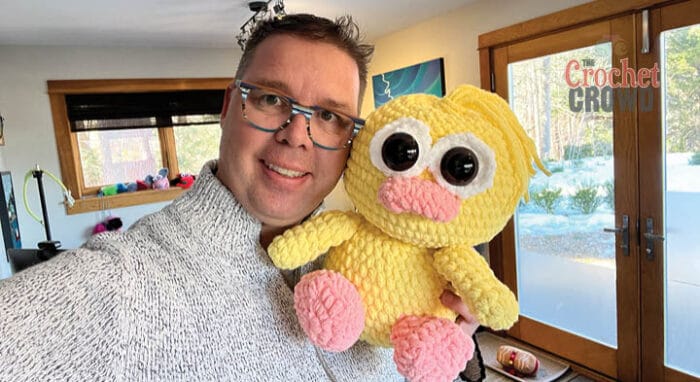 Tutorial
Ollie the Owl
Ollie, the Crochet Owl, is a much faster amigurumi character by Sarah. It uses just one Bernat Blanket o'go. It's a fantastic idea and quick too. I gave an Ollie to someone at my local spa who was having a baby. I also have one in my studio just for the cuteness of it.