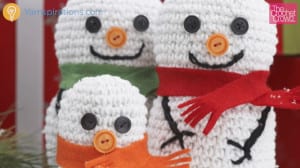 Crochet Your Own Snow Family
This cute Crochet Snowman Family has two sizes in the same pattern. Both Mom and Pop are the same pattern but decorated differently. There is a child size version or baby version, however you see it.


More Christmas Ideas
You will notice that the neck area of the snowman is indented in. This is not part of the pattern but a finishing technique. Under the scarf, a yarn is strategically woven in and pulled in and tied. This pulls in the neck. This is also shown in the video tutorial. I share this information because what you are seeing here are two sizes of crochet tubes. So there's not fancy stitch work to make the neck. So it's one less thing to worry about.
In the tutorial, I show you how to make the tubes and leave the decorating to you. You can either sew on the buttons or scarf or depending on how you are using this, you could use glue to fix your items on. Remember, what you are seeing on the pattern are just suggestions. Don't be scared to be creative and go outside of the box.
Both Video Tutorials Are Below
Child Size & Adult Size is Included.
More Christmas Ideas