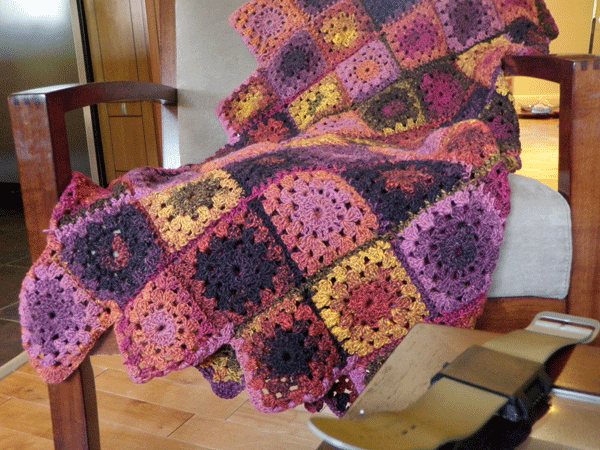 6 Afghans Using Color Transitional Yarn
Square Afghan will measure approximately 5.25 Feet square using 14 balls of 100 g or 3.5 oz yarn balls. Use more balls if desired to be bigger.
Each square took me roughly 9 minutes each to complete. This afghan has 128 squares and was assembled on a diagonal instead of horizontal axis. To get the same size in a horizontal axis, you will need 143 squares instead and you will need 3 extra balls to pull off the 143 squares.
11 Balls were used for the squares and three were used for the attaching and perimeter of this afghan.
Materials
Size I Crochet Hook or 5.5 MM
Yarn: 14 Balls – Bernat Mosaic Yarn, 300 G or 10.5 OZ Balls, colour used is "Medusa". One colour ball creates random colour squares as shown above.
Below are 5 other versions of this same pattern down in other colour sof Bernat Mosaic. Yarn Quantities are the same.
Please note that Mosaic Yarn is thinner than Value Yarn. It will produce smaller squares but are ideal for the colour effectiveness of this afghan. No changing colour is required. The yarn does the work for you. This afghan took me about 30 hours to make from scratch.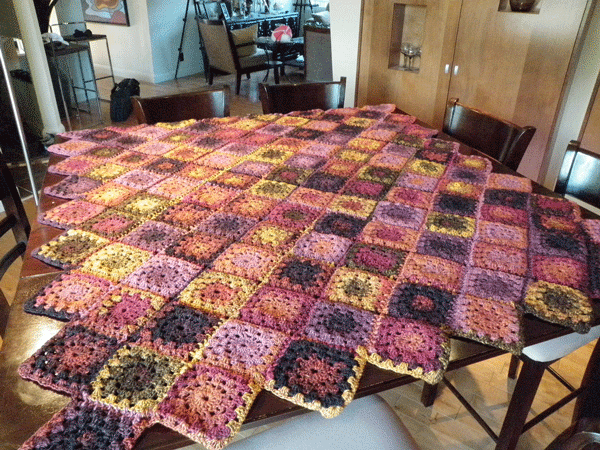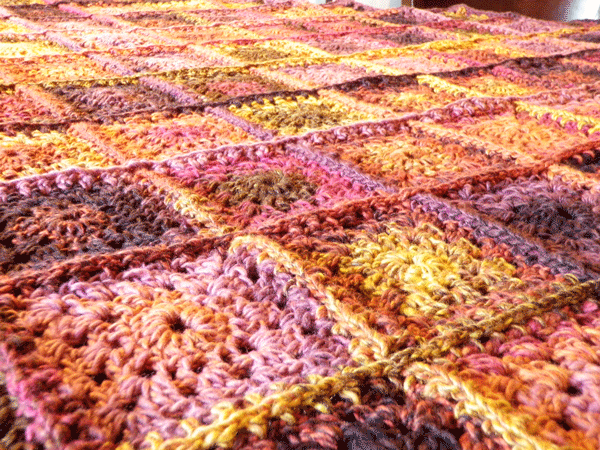 Colour above is called Bernat Mosaic: Medusa
 Colour Variations – 5 More Ideas
Remember that this is a colour transitioning yarn. This simply means the colours change so slowly that each square has it's own personality. This isn't like variegated where the colours are changing every few inches. In a yarn ball, this yarn repeats approximately 3 times.
You can make more variations in your squares if you start the yarn ball at the centre of the ball and other balls are started on the outside of the ball. This practice reverses the colour transition which will double the amount of variations possible within your square colours.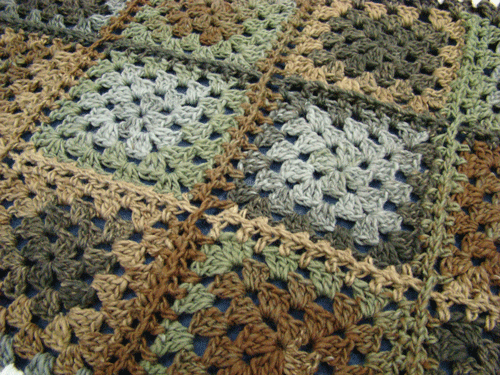 Left – Bernat Mosaic: Into The Woods                     Right – Bernat Mosaic: Calypso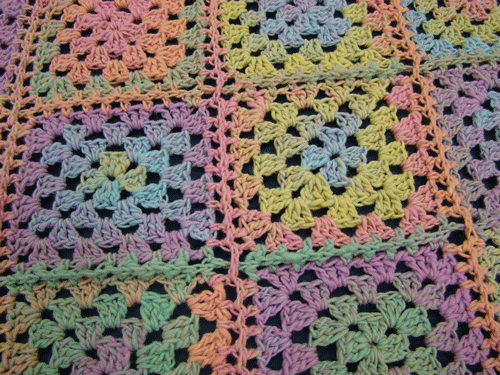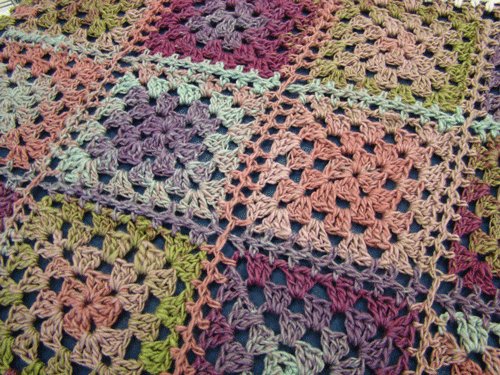 Left – Bernat Mosaic: Day Dream                    Right: Bernat Mosaic: Fantasy

Bernat Mosaic: Ninja
 Definitions
CH – Chain, DC – Double Crochet, SC – Single Crochet, SL ST – Slip Stitch, BEG – Beginning, REP – Repeat, 2TOG – 2 Together, DEC – Decrease, SK – Skip
Free Pattern
For Diagonal attaching, as seen in the picture above, do 128 Squares. For Horizontal attaching, do 143 squares.
Ch 6 and join, ch 3 (counts as 1st dc) 15 dc and join to top of ch 3, 16 dc
Dc ch 4 (counts as dc, ch 1) *dc, ch 1 in each dc around, be sure to count 16 or the next round will not match properly.
Ch 3 and put 2 DC into the same space. *Ch1 and put 3 dc, in the second ch1 space on the previous row. Skip next Ch1 space and put 3dc, ch2, 3 dc, ch1 repeat *twice, sk space, 3 dc ch 1 and join.
ch 3, 2dc, ch 1, skip to next space *3 dc, ch 1, skip to next space 3 dc, ch1, 3dc, ch 2, 3dc, ch1 (corner made) continue from around and join, sl st to corner
ch 3, 2dc, ch 1, skip to next space *3 dc, ch 1, skip to next space 3 dc, skip to next space 3 DC, ch1, 3dc, ch 2, 3dc, ch1 (corner made) continue from around and join, sl st to corner
Fasten off.
I reviewed the colours before attaching, moving squares around on a table top to ensure the afghan looks random. You don't want colours to appear pooling together, meaning there is too much of the same colour in one spot.
Videos For Squares and Introduction