Reading Time:
5
minutes
Crochet Petacular Patterns for Dogs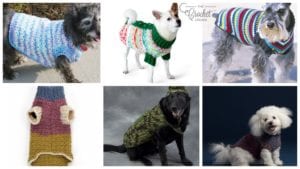 I'm not a dog owner I love them but I don't have one right now, I have a bunny, but if she needed a sweater I would be all over this to make her one. sometimes dogs get cold too especially if they are a shorter-haired or an older pup, they just like us, like that added heat.
This collection has gone to the dogs, and that is awesome we want to make sure our fur babies are going to be warm and stylish too.  I'm sure you could fit some on your cat too if you had one,  I'm not sure cats would be as receptive as a dog though haha…
---
Crochet Textured Dog Coat Pattern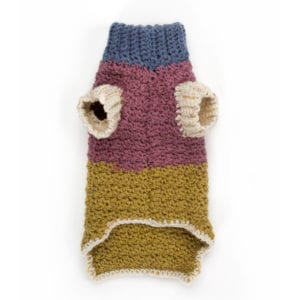 This super cute Crochet Textured Dog Coat Pattern that can be done in multiple sizes is a nice easy pattern and looks cozy. Make it in a few colours like the pattern has, or make it in a solid colour. This Textured Dog Coat Pattern will be a very lovely gift for any fur baby in your life whether it's for yours, friends or family members.
This Crochet Textured Dog Coat Pattern was made using Caron Cakes. There are some really awesome colours in the cakes that this Dog Coat would look great in, make up a few for your puppers. You could even make one for your pup, and make a sweater for your self in the same colours.

Crochet Hunter Dog Outfit Pattern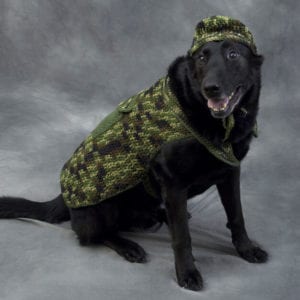 This is a great little set to work up if you or someone who loves to hunt and who likes to take their dog with them when they go. If you are someone who simply loves the camo look, wip up this Crochet Hunter Dog Outfit Pattern for your dog, or cat no judging here they can sport the camo too. If you wanted a more subtle look you could also work this pattern up in a solid colour.
This Crochet Hunter Dog Outfit Pattern was designed by Darla Sims made this using Red Heart Super Saver, make this in the camo like she did, or play with the colours, have fun making this for any pup.

Crochet Dog Coat Pattern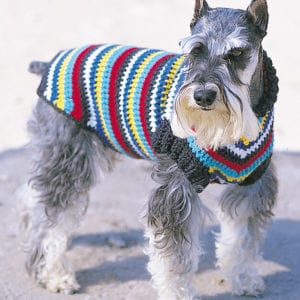 I don't know if it's the stripes getting me with this dog coat or if it's the photo of it on this particular dog, but I find this Crochet Dog Coat Pattern is absolutely adorable. If I had a dog this is definitely one I would totally make to put on them. My (human) best friend has a dog, my niece pup, I really might have to make this in her size to wear (to be clear I mean the dog, not my best friend). She is a large breed dog so it could be interesting making one in her size.
This Crochet Dog Coat Pattern was made using Bernat Super Value or you can use any worsted weight for this pattern. This is a pattern I would think about doing in a few different sizes to sell if you are someone who does craft shows.