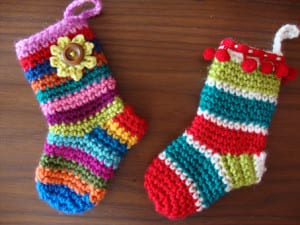 Christmas Decor Ideas
I've been on the hunt for small whimsical ideas for Christmas Decor Ideas. My rule is that the pattern needs to be free. Here are some of my fun finds.
Click the links in the list below for the free patterns. 
Miniature Christmas Stockings (seen on right has been removed offline by the designer. I'm sorry.)
Sock Yarn Christmas Tree (very artistic)
Exquisite Table Center Piece (catch your jaw on this one)
I'm keeping my eye on other trending holiday items.