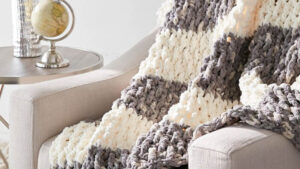 Learn how to Crochet Lush Life Blanket using one of the most popular yarns today, Bernat Blanket Yarn.
This blanket plays with the concept of simply crocheting double crochets and front post trebles (fptr). The FPTR's are easy to manage and create the luscious textures and ultra-softness, in this already super plush yarn. It's like hugging a cloud.
Cuddle up on the couch or put on the chick flick and cry into a bowl of popcorn. This blanket is fabulous. The video tutorial below is available to show you the steps. It's really easy. I would even guess beginners could master this one.
More Free Patterns


Crochet Hissy Stitch Blanket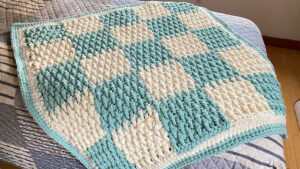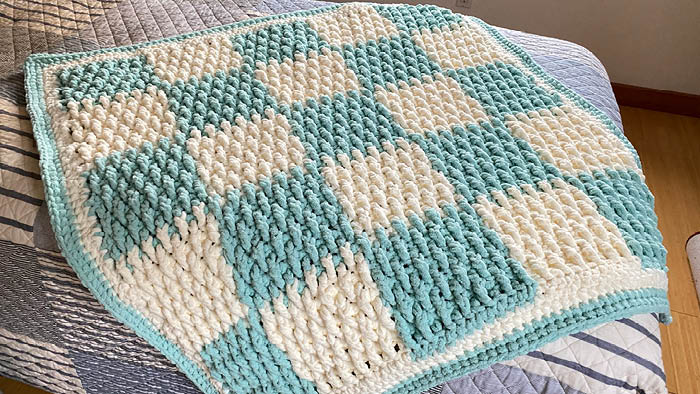 This is a similar design that is using the same yarn and stitch but making it into a checkerboard. This is the Hissy Stitch Baby Blanket.
During the creation of this design, the dawg walked through my balls of yarn tossing my organized nature into chaos. I had a hissy fit, big time. So upset about it, my name though using the same yarn and hook size as Life is actually 14" shorter width wise! I was tight!
Highly textured and easy to crochet. The multiples are 26 + 14 if you want to change the size.
This design concept was based on the number of people who message me asking me about the Lush Life Blanket. You see, the staging of the photo appears that the blanket could be a checkerboard or gingham appearance. However, I think it could be this assumption that people really love the idea.

Video Tutorial
More Blanket Patterns