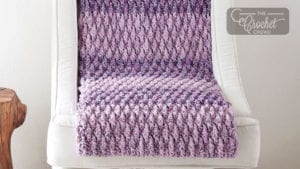 Crochet Textured Life Blanket
The Crochet Textured Life Blanket is an easy level blanket that is really fast to crochet. For new crocheters, this could be one of those blankets that are the very first blanket they ever crochet.
There is a repeat of 4 rows that make this blanket. 2 of them are just straight across with single crochets. The front post trebles that jump down are strategically aligned to give the look. The tutorial will take you through that.
The tutorial will take you through changing the yarn colours and even ending the project.


More Ideas
Tutorial
More Bernat Blanket Ideas