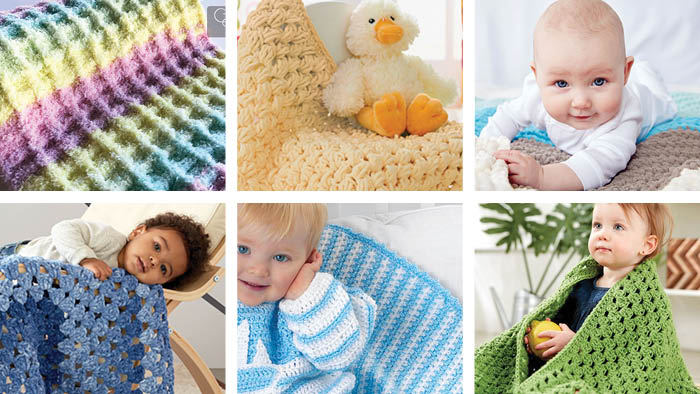 6 Crochet Baby Blankets Beginners Can Do
Let's face it when new crocheters want to learn they tend to go for something bigger than a dishcloth. A baby blanket can be a targetted idea for a new crochet project.
As an educator of crochet, I believe that projects, where the finished line isn't too far away from the starting point, can give an ultra-satisfying feeling.
I have assembled 6 crochet baby blankets that a beginner and experienced crocheters can do. Many experienced crocheters look for simple ideas to easy to do in front of the TV to stockpile the charity box to give. Also, they make for quicker projects for new family members or gifts for others.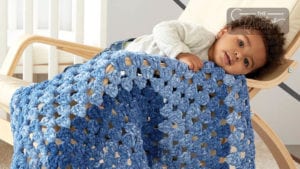 Baby Crochet Rectangle Plushie Blanket
Try this neat Crochet Rectangle Granny Blanket using Bernat Blanket Yarn. The yarn transitions in colouring throughout to give a really cool look. Of course, it's Bernat Blanket based and has the thickness that crocheters tend to appreciate.
This is a standard rectangle granny blanket. If you want to use any form of Bernat Blanket, follow the tip of using only chain 13 in the starting chain and follow the pattern in the tutorial the same way.

Tutorial
If using Bernat Dappled or Bernat Blanket Yarn, chain only 13 to start and you can follow the tutorial as shown below.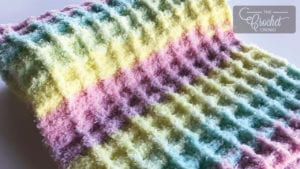 Baby Crochet Waffle Blanket
This 32″ x 32″ Crochet Baby Waffle Blanket was a two nighter project in front of the television to complete.
It's an easy level project but for absolutely new beginners, you may struggle with identifying the chain stitches at the very beginning of the project. Once the first row across is formed, I found this to really be a cinch.
I have this project in my yarn studio as a sample. It really captures the interest in having the texture with this ultra plus yarn.

Tutorial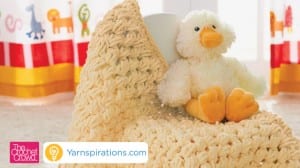 Baby Crochet Puffy Blanket
Crochet an incredibly comfy Crochet Puffy Baby Blanket using Bernat Baby Blanket yarn.
Bernat Baby Blanket Yarn is exceptionally thick as a super bulky level 6 yarn. Using a big crochet hook, this afghan will crochet up extremely quickly.
To change the size of this blanket, the stitch multiple is 2. 
The advantage of this type of yarn is that it is big and bulky without the added weight. It's lightweight and sure to keep baby all cozy.

Tutorial
Baby Crochet Colorblock Blanket
Are you new to crochet and want to crochet your first baby blanket? How about giving the Crochet Colorblock Baby Blanket a try?
This is straight single crochet back and forth using a J or 6 mm size crochet hook with Bernat Blanket Yarn. It's easy for experienced crocheters and gives new crocheters an opportunity to learn.
The baby girl pictured in this project is absolutely adorable.

Tutorial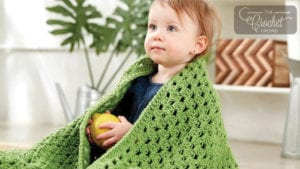 Baby Crochet Easy Peasy Blanket
This easy beginner project baby blanket really is Easy Peasy! It's the Baby Crochet Easy Peasy Blanket. The second project I ever did as a 15-year-old back in my teenage years was a pattern similar to this. I did mine in a double size for my waterbed! I know, I'm dating myself to state I had a waterbed! haha
I doubled up the yarn strands to provide a double thickness for warmth. In this easy to follow the pattern, I show you in the tutorial the repeat rows. It's like a granny square and ends up being a square but you have to work up in rows back and forth. It hooks up pretty quickly.
This is a terrific project for the charity stockpile to help others.

Tutorial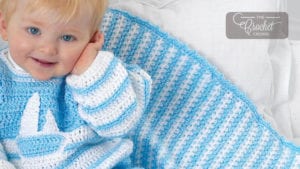 Baby Crochet Stripes Blanket
This Easy Crochet Baby Blanket uses Bernat Coordinates Yarn. Designed for baby and children where softness and lustre are the priority.
This design is similar to the simple baby blanket that is shown in the video tutorial. There are some small differences but it's about the materials used and not the stitches itself.
Let me help you get started with the tutorial below.

Tutorial
More Baby Blankets