DOWNLOAD THE FREE CHAIN START TABLE
---
We are constantly asked how many chains you need to do certain size afghans. Using my crochet hook and measuring tape, I figured out the average chain counts you need to do in order to get close to the size you want.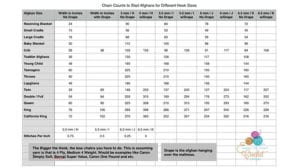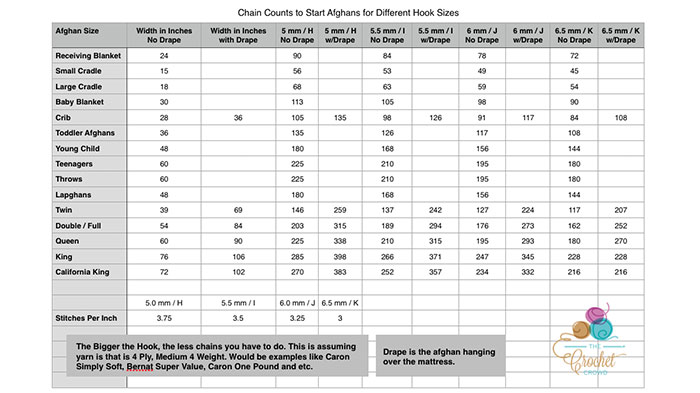 I am assuming 4 ply worsted yarn in the Medium 4 Weight Category. Yarn included in this category is examples like Caron Simply Soft, Caron One Pound, Bernat Super Value and etc. Just look at the ball band for the weight level of the yarn.
More Helpful Tips
I have provided in the worksheet below how many stitches I had per inch. I have done the math for you. But if you want to do the math on any other yarn types of hook types. This is what you can do.
Crochet a 3" Chain.
1 sc 2nd Chain from hook and sc in each chain across. Turn.
Ch 2, 1 hdc in each stitch across. Turn.
Repeat the last step 3 more times.
Using a measuring tape, measure how many stitches per inch. It round to nearly ¼ inch.
Using that number how many stitches you had in an inch, times by the width you want. If you get a number with a decimal point, round to the nearest whole number.

3.75 stitches per inch x 39" (twin size) = 146.25. Round to 146 stitches. That's your starting chain.
Tip
The larger the hook you use, the fewer stitches you will have to do across a row. It's something to consider for time and effort with your afghan.
Worksheet Below
Click the above button to download this worksheet if you would like to have it.
I have provided 4 sizes of hooks which include the standard 5 mm / H Hook to 6.5 mm / J Hook that is typically suggested for this yarn level.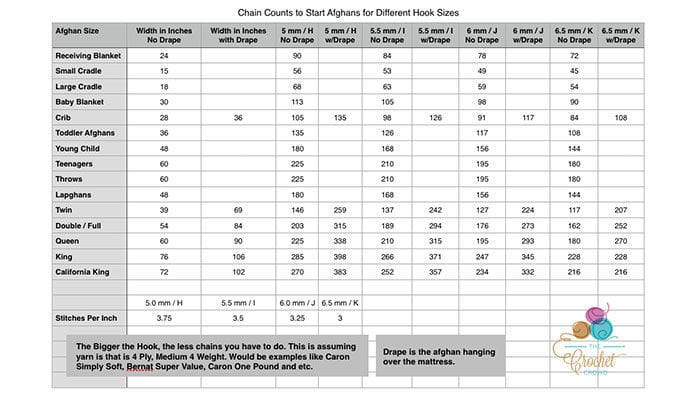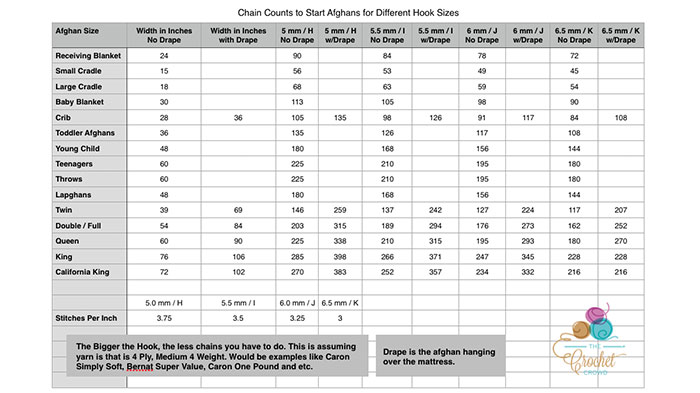 Afghan Project Ideas