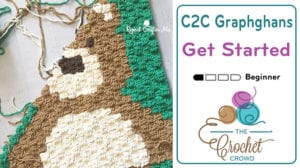 Corner to Corner Graphghans
Corner to Corner Afghans is one of the most popular projects on Crocheters' hooks today. From the simplicity and speed of the design to create square or rectangle afghans or scarves. It's extremely popular.
Like many crochet items that are popular, Crochet Corner to Corner has morphed into a picture and images to be crocheted into a project. Thus, Corner to Corner C2C Graphghans has been born.
In the tutorial presentation for this form of work. I used three sources for information gathering.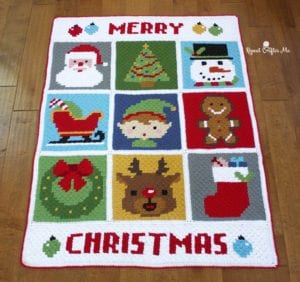 Repeat Crafter Me
Sarah Zimmerman, founder of Repeat Crafter Me, first inspired me before this concept was cool to the idea of Corner to Corner Pictures. I was first exposed to this in her ideas of making a Christmas Character Afghan back in 2015. It may have been already popular but this was the first time I had noticed it. You cannot deny how cute this is. It was taken back by the simplicity but awe-inspiring nature of this project.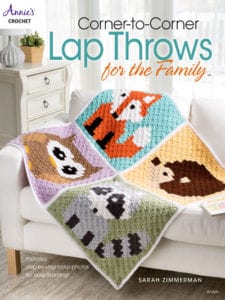 From a simple idea came the thought of creating smaller squares with images inside. So each one of the squares is done separately and then joined together to finish this all off. Since then, Sarah has continued to make free resources for this concept and is an industry leader, at least my perspective for providing such great detail and ideas.
She's one of my favourite bloggers in the crochet industry. She knows how to touch hearts with easy and playful colours. To inspire the young and old. Behind the scenes, she's pretty easy to speak with and is pretty down to earth. Win-win-win!
Sarah would later go on to be included as an author for Annie's with her latest pattern book. Filled with cute and inspiring patterns for the little ones in our lives. This book is called Corner to Corner Lap Throws for the Family. You can purchase a book or have an instant download direct from Annie's.

---
Did you know you can use Half Double Crochet Stitches instead?
---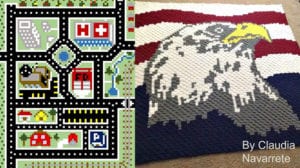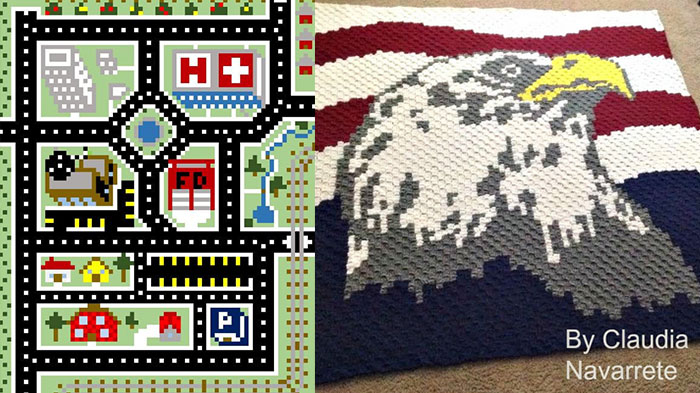 C2CGraphs.com
C2CGraphs.com by Kim Latshaw is the only service I know of online that specializes in Corner to Corner Graphs with Word Formats. In the tutorial about this concept. When I mean service, she is the only service I know where an image you want can be converted into both graph and written word instructions.
As mentioned in the tutorial, if I were you, definitely invest a few dollars to have this service done for you. It will save you a ton of time. She runs an interactive Facebook Page where ideas are flowing, you will probably be over-inspired if you ask me.
Kim has a slew of patterns that are already written and available for download. She takes great pride in having them tested and more.
---
StitchFiddle.com
StitchFiddle.com is a free service that requires free membership to be completed prior to use. You can use your Facebook to log in as well.
When doing the C2C Format, select the embroidery to fill in the boxes with colour. You can either upload your own photo or design your own from scratch using the program they have inside.
You are able to print your designs and keep them handy as you work on them.
Picture / Logo Disclaimers
As a full disclaimer, you should not submit any trademark or licensed photographs to any source to have it made into a diagram without the written consent of the owner. If you are submitting something like your church or school emblems, be sure to talk to them first prior to going ahead.
Pictures may include cartoon characters, actors, sports teams, business names, brand names and more. Should you wish to do this, The Crochet Crowd and affiliated partners such as Yarnspirations, Repeat Crafter Me, C2CGraphs, StitchFiddle and other partners are not responsible for any legal action that may occur. Be respectful of artwork that is not yours.
More C2C Ideas
Graphghan Concept
Let's examine the Bernat Blanket Bear, concept and pattern by Repeat Crafter Me.

The trick to the graphs is knowing they are working on a diagonal. Unlike the Graphghans we have shown in the past that are usually Single Crochet, these are worked in box-like shapes. 1 Box on the graph equals 1 box on the project. In Jeanne's example below. She has crocheted Corner to Corner and is showing 7 boxes wide by 7 boxes high.
General Sizing Based on Boxes
Assuming 5 mm or H Hook, 4 Ply Worsted such as Bernat Super Value Yarn. Here is the outside for the boxes in the width. The height can be square or rectangular.
Baby Blankets, about 30″ – 35 Blocks Wide
Child Size, about 42″ – 49 Blocks Wide
Throw / Queen, about 60″ – 70 Blocks Wide
When using Stitch Fiddle, set your columns by the width using the general sizes above to be most accurate.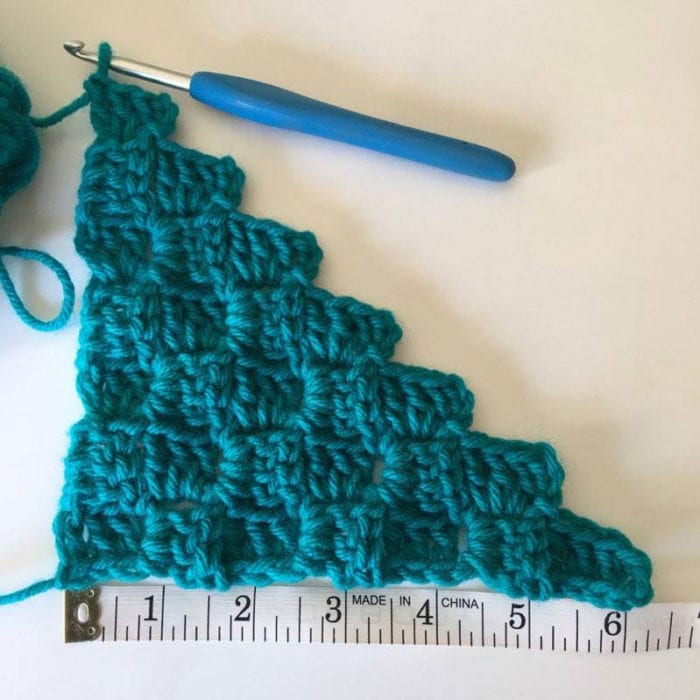 Beginning the Graph
Sarah has you starting on the right bottom of the graph. Don't be alarmed if others have you starting in the left bottom. It doesn't really matter. Just pick a bottom corner and commit to it.
If words are not provided, just count the boxes and be sure to highlight as you go to ensure you have done the work. In the event that you need to put down your project, just be sure you make notes on where you stopped so when you pick it back up that you are starting on the correct row.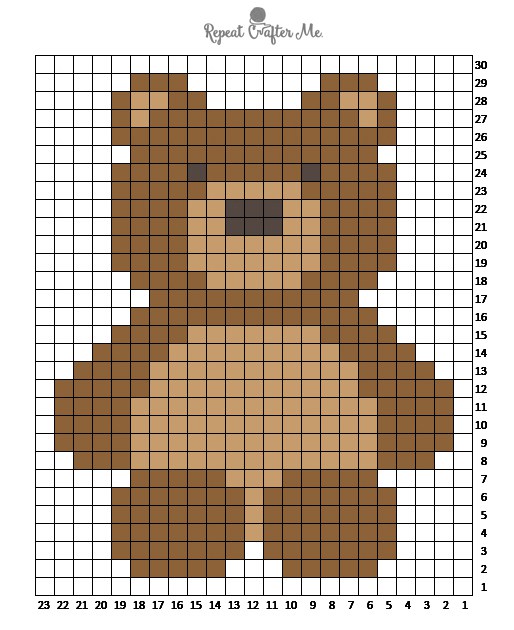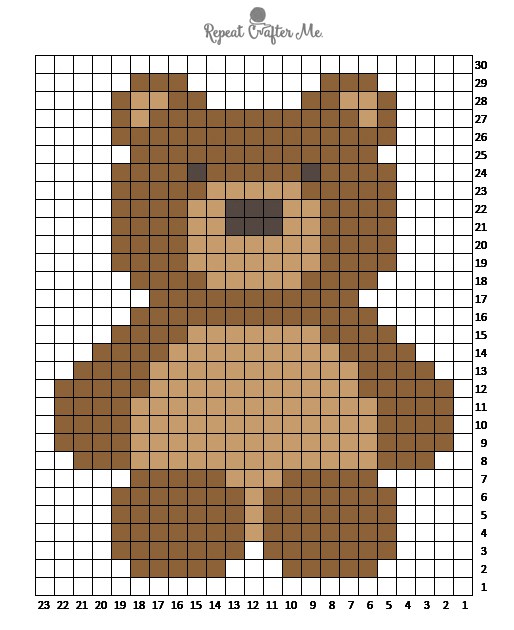 The afghan will be crocheted on a diagonal due to the corner to corner concept. So as you are completing the object, you have to consider how many colours you are using. The amount of colours dictates the number of bobbins used. The more colours, the more bobbins. Bobbins can be your best friend or they can be your living nightmare if you have too many. It's something to consider when doing a pattern.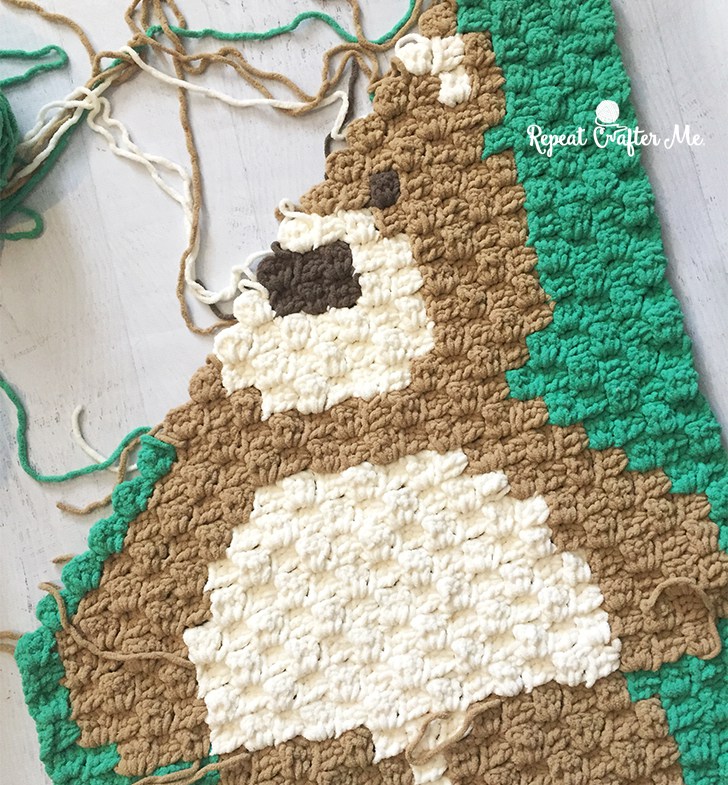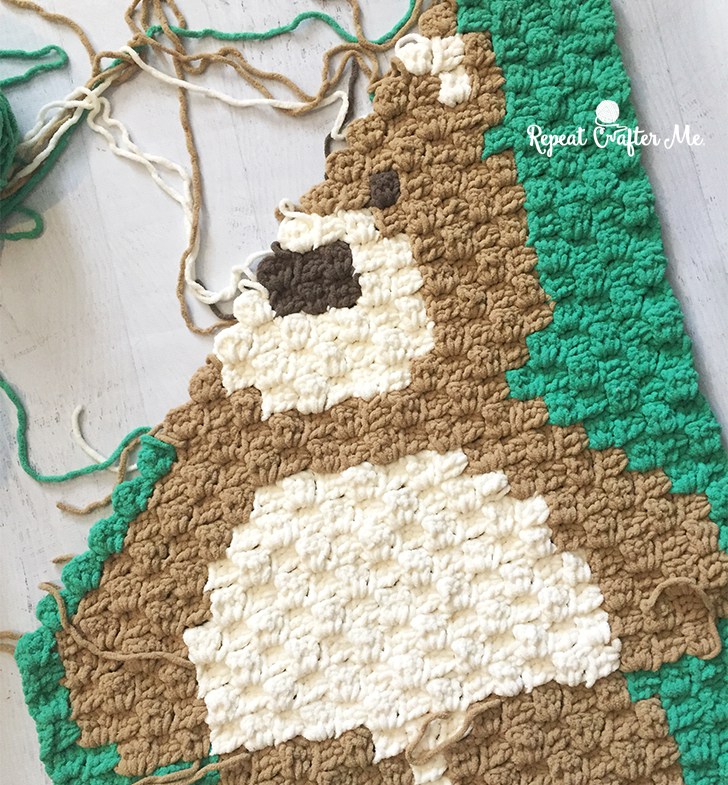 When you are completed your project, you will have a lovely afghan that is customized and fabulous. It's something to be super proud of in the end.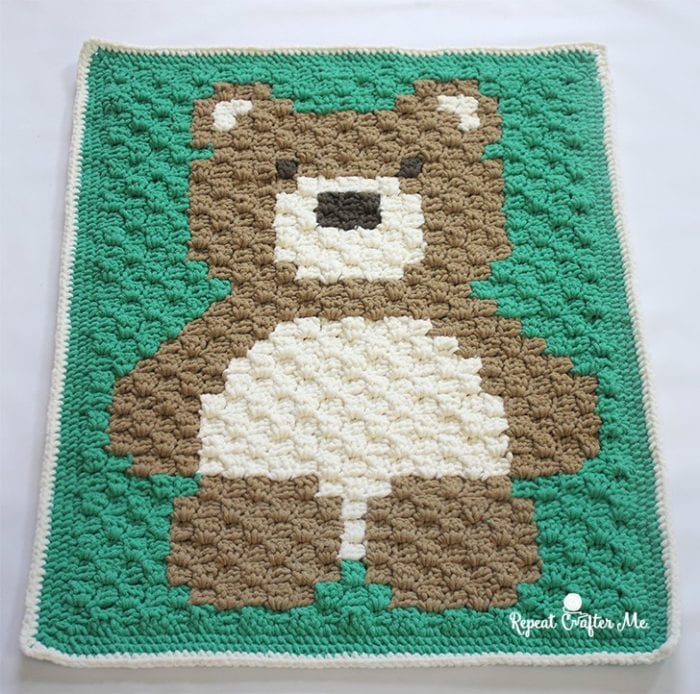 Tutorials
Corner to Corner Original Videos.
Learn the difference between squares and rectangles for Corner to Corner. This is a visual presentation of the difference in growth for a square versus a rectangle. 
For understanding how to do Corner to Corner in rectangles.
Simple Borders for Corner to Corner Stitch Work
Corner to Corner Graphghans
Pattern Suggestions
Crochet C2C Pattern Ideas