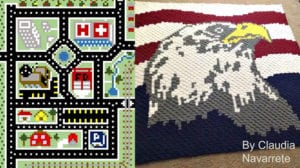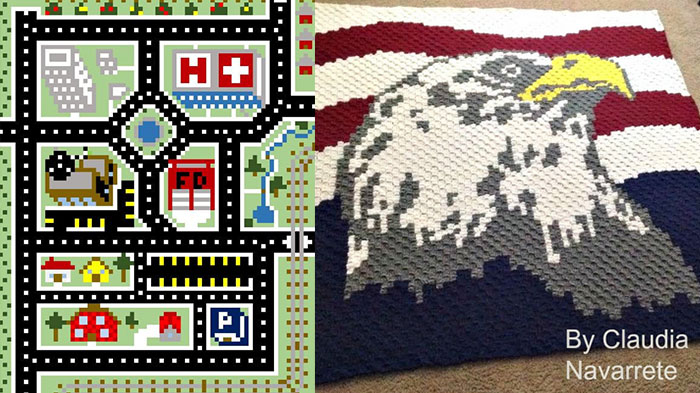 Customized Corner to Corner Pictorial Afghans and Scarves
Introducing a graphghan maker, Kim Latshaw, of C2C Graphs. From the concept of a graph to reality of an afghan or scarf. Kim has a vast library of different ideas. Ranging from traditional to whimsical.  You can stop counting those little boxes as C2C Graphs has it all worked out to follow along much easier with step by step instructions that compliments the graphs.

Pattern Ideas
What Do The C2C Graphs Look Like?
Kim provides step by step instructions on how to read her graphs. Being this is a corner to corner, in one direction we work down the diagonal and in the other direction we work up the diagonal. She has it's easily laid out so it's hard to get confused about what to do. It's pretty awesome.
She has step by step instructions but this is what I have gathered and it makes sense to me.
Pictures illustrate my points.
Corner to Corner Graphs

The blocks are labelled on the graph in a diagonal format. So if you look at the number 1, it appears to be sitting under block 2 but you need to look at this graph from a diagonal perspective. I put RED lines to show you how the numbers line up to the boxes. Think diagonal.

So when you start number 1, you are starting at the bottom of the graph (horizontal) and working to the 1 in the side (vertical). Row 2 is starting from the vertical and crocheting down to the horizontal. You follow the instructions row by row back and forth and the picture will turn out. In other words, you don't fasten off in each row and start at the beginning.
You will get the graph and the blocks are labelled in X (horizontal) & Y (vertical) direction. So in this case, Row 1 is the one block on the left considered going in the up direction. Row 2 is then 2 blocks going in the down direction. Row 3 is the blocks going in the up direction and so on and so on. Knowing if you are going up or down is important in the case you are confused about where you are in the pattern.
Colour Assignment
Corner to Corner Graphs

Each colour is assigned an alphabet number. For your convenience, two sets of instructions are provided. One has the instructions written with the colours in each box and the other is just the instructions without colour highlighting.

In each instruction, the colour assignment is shown as the first digit.
Number of Boxes per Colour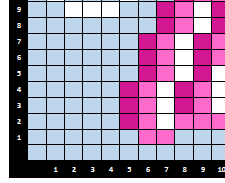 Rows 1 through 7 on the graph show you that it's a solid colour.
Each row has the number of boxes in the written instructions. So obviously Row 1 is 1 block. Row 2 is 2 blocks and so on.
So if you look at the instructions for Row 7. It simply says B7. B = Colour, 7 represents the number of blocks in a row of the same colour. In this case, B7 is the entire row and the colour B is the entire row.
So Let's Review Rows 1 - 8
Looking at the graph and the written instructions. You can see they align in both visual and written instructions. The graph shows you the traditional way of manually counting the squares but it's easy to get confused. C2C Graphs provides the written instructions to follow line by line.
I think what is most confusing about this technique is always remember that you are working in a diagonal.
Row 1, you can see there is only 1 instruction. B1. Simply means what colour and it's 1 block. Going in up direction.
Row 2, B2 Colour and 2 Blocks. Starting on the side and going down to the horizontal bottom.
Row 3, B3 Colour and 3 blocks. Starting at the bottom and going up.
Skip Ahead to Row 8
Row 8 we need to use 3 colours and there are 4 sections of colours.
Notice you are going in the down direction on the graph as it states that in the written instructions.
The first 5 blocks are Colour B.
The next 1 block is Colour P.
The next 1 block is Colour K.
The next and final block is Colour B.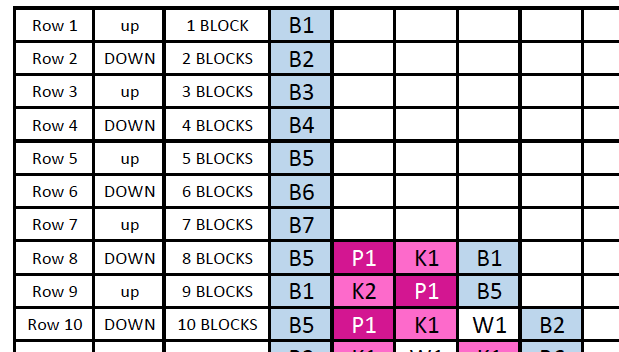 Lots of Colour Changes
This pattern is a detailed mermaid blanket. So in certain lines, there's a lot of colour changing required because you are working in the diagonal.
So both lines of instructions are required to complete Row 43.
Like before, B1 is Colour B for 1 Block. K3 is Colour K for 3 Blocks and so on. You simply follow across and when you get to the far end of K1, simply go to the second line down and start at P2 and go across to follow.

For great patterns like the eagle, this is where C2C Graphs in the written instructions make this project much easier. Of course, the more colour changes, the more complex the pattern. C2C has fun easy to follow graphs but also some doozies that are really complex. Rome wasn't built in a day, so the complicated, the more time it will take but you will most likely get far more likes and loves on Facebook and within your friends and family too.
As you complete the line, check it off and move to the next. You won't be sitting there counting boxes for the next row as Kim has it worked out for you.
Cost of Service
Obviously there is a lot of work involved here and this service is not free. However, her prices, because she sells in the volume, are exceptionally reasonable through ETSY with PayPal accepted as a form of payment.
Once purchased, you will be prompted to instantly download the pattern you're purchased.
They may take customized requests and the work involved is manual to make a customized graph. You will need to contact Kim through her website to arrange a customized quote and a time frame of how soon it can be done. She is a busy lady, so plan ahead.
Kim has a Facebook Page where crocheters can come together to celebrate ideas and more. View her Facebook Page.
If you are interested to view her fun gallery of pre-made patterns that are already available, you can visit her website called C2C Graphs.
Just a friendly reminder that is write up is a courtesy to let crocheters know this service is available. C2C Graphs is not a sponsor or affiliated to The Crochet Crowd. All transactions and arrangements are between you and C2C Graphs and we do not receive any type of compensation.
C2C Pattern Ideas