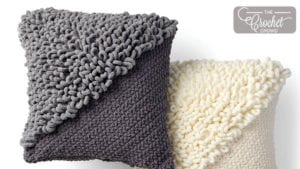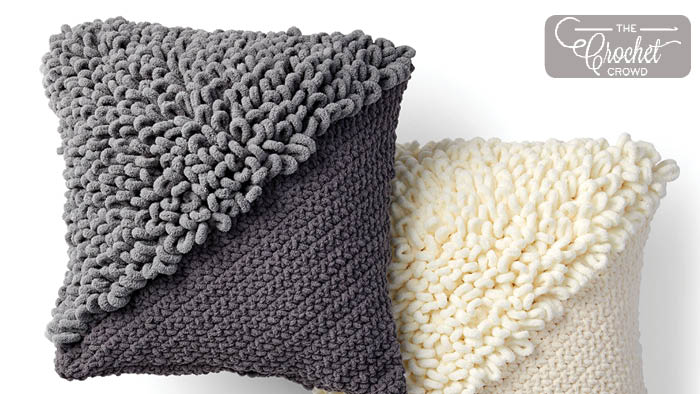 Crochet Loopy Corner Pillow
This is a Corner to Corner (C2C) Loopy Pillow concept of using single crochets from one corner to the other. It's combining two favourite yarn products which are Bernat Blanket and Bernat Alize Blanket EZ together.
The video below shows you how to inject the Bernat Alize Blanket EZ into the stitch work by laying down 2 loops together and single crochet right over the top of the loops. This locks the loops to stick outward. The loops cannot pull out from the good side as the loops are attached to each other on the backside of the project.
By working with Bernat Alize Blanket EZ and Bernat Blanket, you too can have the same texture look. See the tutorial below for the concept for doing this for the right side and wrong side of a crochet project.


More Patterns to Consider
Bernat Alize Blanket EZ Yarn
Casting on with Bernat Alize Blanket EZ yarn is very simple due to the pre-formed loops. You can cast on in either right to left, or left to right. Some patterns that we have, it matters which side you start on. You will notice that in the tutorial work.
Each loop counts as a stitch. To start the project. Count the number of loops across and once satisfied, begin doubling back with pulling loops from the back to front. In some patterns, you may be pulling front to back. Either way, there's really nothing fancy involved to get yourself started.
So essentially, count and begin to loop the stitches through.
Tutorial
More Bernat Alize Blanket EZ Ideas
Bernat Alize Blanket EZ" data-style="grid" data-row="1" data-layout="vertical" data-rtl="" data-fitrows="" data-filtercomb="" data-filterlogic="OR" data-filterload ="" data-sortbyload ="" data-orderload ="false" data-fullwidth="" data-fullheight="null" data-gutters="[[320,5],[480,5],[768,10],[980,10],[1200,10],[9999,10]]" data-slider='{"itemNav":"null","swingSpeed":0.1,"cycleBy":"null","cycle":5000,"startAt":1}' data-ratio="1.78" data-cols="[[320,1],[480,2],[768,3],[980,4],[1200,4],[9999,5]]" data-rows="[[320,200],[480,200],[768,220],[980,220],[1200,240],[9999,240]]" data-animation='{"name":"Fade in","visible":"","hidden":""}' data-transition="700ms" data-ajaxmethod="load_more" data-ajaxdelay="100" data-preloader="1" data-itemdelay="100" data-gallery="" data-ajax="">