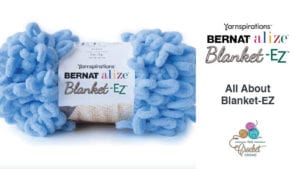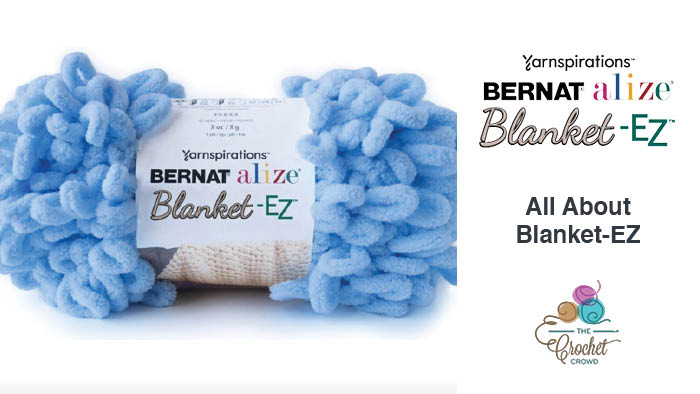 Bernat Alize Blanket EZ Yarn
Do a double take on the Bernat Alize Blanket EZ yarn now at JOANN. In stores and available only as early as July 27th, 2018.
This yarn is unique and you may have never seen anything like it before. I know for me, it was unique and very intriguing. This doesn't use a crochet hook or even knitting needles. You use your fingers.
The yarn has preformed loops where you slip the loops inside other loops to create a knitted look project.
This yarn resembles the look of the regular Bernat Blanket Yarn but is double the thickness of Bernat Blanket. With large loops and ultra plush yarn, this particular method creates thick but incredibly light projects. Projects such as scarves, shawls and even afghans.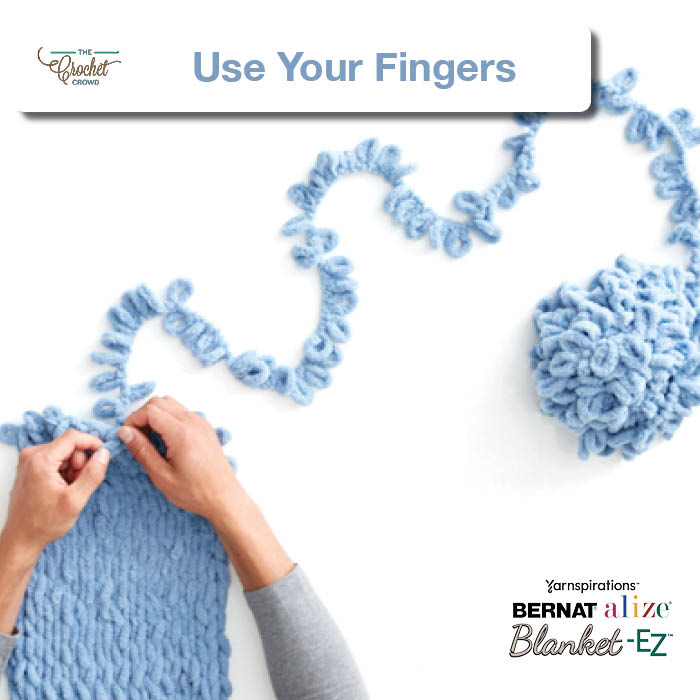 I have referred to this yarn as Beyond a One Trick Pony. What I mean by that, just because the yarn has loops already. The loops are large to allow you to have the chunky look but also create interesting looks like basket weaves, cables and you can to the stockinette stitches, garter stitches and even combine different stitches for your own creative experiences.
This yarn allows kids and non-crocheters and knitters to try the yarn arts. A chance to experience playfulness with yarn. Once a person becomes more comfortable, transitioning to learn to crochet or knitting could be in the future. For us experienced in crochet and knitting, this particular yarn gives you an alternative opportunity.
The Break Through
I found with this yarn that there is a need to try, play and re-try again. Why? Well… I'm an experienced crocheter and know how to knit. For me, the hand movements in using fingers are unique compared to what I am used to. I bet that anyone that doesn't know how to knit or crochet will pick this up really quick.
For myself, after 3 tries, I came to understand the distances of the loops to prevent dropping or leaving loops behind. I also began to auto feed my hands with the next loop on the strand to feed.
This type of stitchwork is referred to as EZ KNITTING. I firmly believe, like anything really, the more you EZ KNIT, the quicker you will get.
The Blitz of Videos
Behind the scenes, I secretly went on a blitz in making the tutorial videos. From the introduction video you see, I tried EZ Knitting for the first time earlier in the day. On the blitz, I came to understand this yarn more and was able to make the pillow and cowl without hesitation.
The first time I did the pillow, it took me several hours but I hadn't practiced with EZ Knitting, the second time through, I was able to make a pillow face in less than 1 hour. Yes, and 18″ diameter pillow. I did the the 2nd pillow face the day after I learned to EZ Knit, which proves the point on the more you EZ Knit, the quicker you get. 
The Crochet Crowd will have multiple of tutorials coming out on how to use this yarn.
Introduction
List of Tutorials
More Bernat Alize Blanket EZ Ideas
Bernat Alize Blanket EZ" data-style="grid" data-row="1" data-layout="vertical" data-rtl="" data-fitrows="" data-filtercomb="" data-filterlogic="OR" data-filterload ="" data-sortbyload ="" data-orderload ="false" data-fullwidth="" data-fullheight="null" data-gutters="[[320,5],[480,5],[768,10],[980,10],[1200,10],[9999,10]]" data-slider='{"itemNav":"null","swingSpeed":0.1,"cycleBy":"null","cycle":5000,"startAt":1}' data-ratio="1.78" data-cols="[[320,1],[480,2],[768,3],[980,4],[1200,4],[9999,5]]" data-rows="[[320,200],[480,200],[768,220],[980,220],[1200,240],[9999,240]]" data-animation='{"name":"Fade in","visible":"","hidden":""}' data-transition="700ms" data-ajaxmethod="load_more" data-ajaxdelay="100" data-preloader="1" data-itemdelay="100" data-gallery="" data-ajax="">
Bernat Alize Blanket EZ Colours