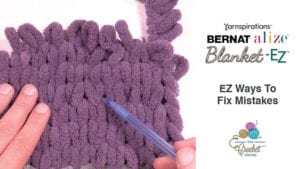 How To Fix Bernat Alize Blanket EZ Stitches
As mentioned in the preview video, this yarn is double the thickness of regular Bernat Blanket yarn. This extra thickness is key for the success of this product because the loops hold inside each other as you knit. The extra thickness of the yarn provides the friction needed so the loops don't easily fall out. Of course, if you have to pull out, you can simply tug on the working strand and to pull out.
Unfortunately, if you drop or skip a loop by accident, I'm sorry, you will need to pull out the strand and finger up the stitches once again.
If you look at your project and you know you haven't dropped a loop, you can simply undo the immediate area vertical to where the mistake is. The tutorial demonstrates that. Even for complex stitches, you can undo the immediate area without risk of the rest of your stitches falling out. Simply undo, twist or correct the error and finger knit it back up to the top.
So if you see an error and haven't dropped loop, this is an easy fix without a lot of time to redo major sections of your project.
Where to Find Bernat Alize Blanket EZ
Bernat Alize Blanket EZ is available at all participating JOANN Fabrics & Crafts stores across the USA. This yarn will be available on JOANN.com. Keep in mind, that JOANN only ships to the United States. Click here to Find A Store Near You. See JOANN's website for more information on store hours and terms of service for online ordering and shipping.

Tutorial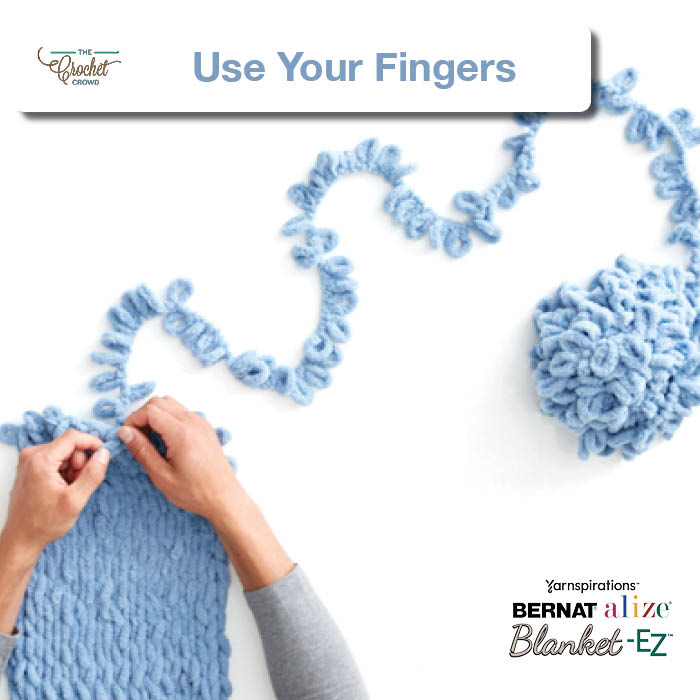 More Bernat Alize Blanket EZ Ideas
Bernat Alize Blanket EZ" data-style="grid" data-row="1" data-layout="vertical" data-rtl="" data-fitrows="" data-filtercomb="" data-filterlogic="OR" data-filterload ="" data-sortbyload ="" data-orderload ="false" data-fullwidth="" data-fullheight="null" data-gutters="[[320,5],[480,5],[768,10],[980,10],[1200,10],[9999,10]]" data-slider='{"itemNav":"null","swingSpeed":0.1,"cycleBy":"null","cycle":5000,"startAt":1}' data-ratio="1.78" data-cols="[[320,1],[480,2],[768,3],[980,4],[1200,4],[9999,5]]" data-rows="[[320,200],[480,200],[768,220],[980,220],[1200,240],[9999,240]]" data-animation='{"name":"Fade in","visible":"","hidden":""}' data-transition="700ms" data-ajaxmethod="load_more" data-ajaxdelay="100" data-preloader="1" data-itemdelay="100" data-gallery="" data-ajax="">