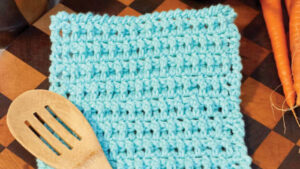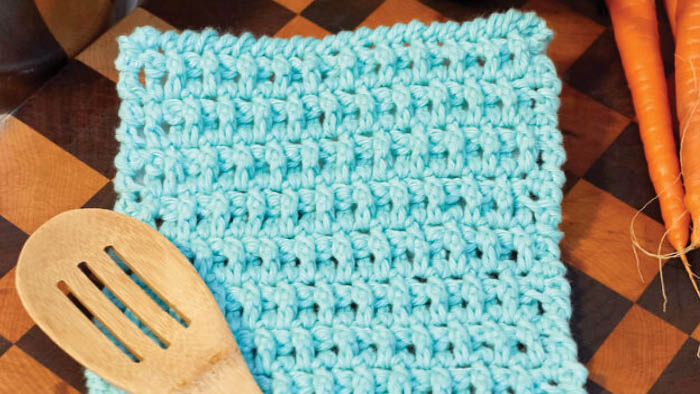 The Crochet Lattice Dense Dishcloth has made me a believer in crochet dishcloths. Texture and tightness, oh my!
You know how when you get a dishcloth wet and it can relax. If you are too loose with your stitches, the cloth becomes this sagging limp thing in the sink! This one is dense, stays tight! I know, RIGHT!? 
The texture of the bumps allows you to have some friction when cleaning but the best thing of all and I cannot believe I am saying this. It's a smaller dishcloth! I love to wash dishes, I know, it's a sickness! But seriously I do, it's therapeutic and keeps counters cleaner as loading and unloading the dishwasher is just not hitting my zen points!
The reason I am touting it's smaller as it's about 6″ square is that the bigger the dishcloth, the longer it takes to dry. Longer drying means the cloth many never dry during a few days of use. Best yet, it's only 6″ so you can whip off several of these puppies so you have ample supply for when they need washing.
If you are new to this type of creativity, be sure the yarn is Lily Sugar'n Cream, Peaches and Cream or Bernat Handicrafter Cotton. Don't use acrylic yarn like Red Heart Super Saver or that will turn into your beast and see your stitch rip apart like the Moses and the Red Sea or the Black Sea… Ah, it was a sea, I just cannot remember which!
If you like smaller cloths, tightness and want to burn up some free time. Look to this master of the universe!
More Ideas

Tutorial
More Collections