6 Crochet Dishcloth Patterns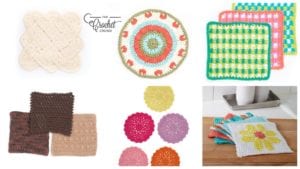 Dishcloths are a great way to learn new crochet stitches, patterns or techniques before jumping into a full-size throw or blanket, or great if you're looking for something quick to work on. They're not a huge project so it doesn't get overwhelming or feel like each row is taking forever.
Dishcloths patterns are also a very practical project for more than just learning new stitches, they can be used in the bathroom or kitchen as decoration or just simply give them as gifts.
I don't know if making your dishcloths is any cheaper than buying a package of store ones, but it is more fun and you can make them fit your personality as well as more fun colour choices.
---
Tunisian Simple Stitch Crochet Dishcloth Pattern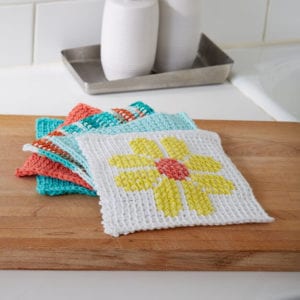 Tunisian stitch is one that I haven't tried yet, but it is on my crochet bucket list. I love the look patterns that I have seen done in it. This Tunisian Simple Stitch Crochet Dishcloth Pattern is a great starting point if like me you are just learning the stitch. I like that the dishcloth is nice and small so when I inevitably end up having to frog it for the 10th time before it finally sinks in what I'm supposed to be doing, even though Mikey has shown me a couple of times already. I know I will become obsessed with Tunisian.
This beginner-friendly Tunisian Simple Stitch Dishcloth was made using Lily Sugar'n Cream, if you have another cotton like the Handicrafter that is fine too, the pattern also has the diagram for the flower if you wanted to add that as well.


Thankful Thursday Crochet Dishcloth Pattern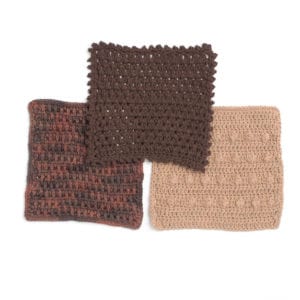 This Thankful Thursday Crochet Dishcloths Pattern has a pattern for 2 different textured dishcloths included, make them all for your kitchen or bathroom or work up just one in one of the 3 stitches in the pattern.
The Bobble Version would be a good one for washing your face. The Arruga stitch is not one I think I have done, the name doesn't sound familiar to me, but it looks like a super easy repeat, giving you a great texture for washing dishes. the third is the V-stitch, it's one of my favourites to do.
This easy little bungle of dishcloth patterns are made in the Bernat Handicraft, I may have to work up some later in a couple of colours some of my crochet dishcloths need refreshing. these would all also make lovely stitches for a simple blanket too.


Crochet Mod Gingham Dishcloth Pattern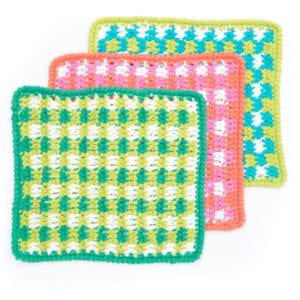 Plaid or Gingham is probably my favourite prints, my closet has many shades of is as do other areas of the house. So when I saw this Mod Gingham Crochet Dishcloth Pattern I got pretty excited and added it right away to my to-do list. If gingham or plaid is one that you haven't tried yet this is a great starter project, once you have it down pat blankets will be a breeze.
This Crochet Mod Gingham Dishcloth Pattern was made using Lily Sugar'n Cream, you can also use the Bernat Handicrafter. It's a great gift basket or craft show pattern to work on.


Vintage Blossom Crochet Dishcloth Pattern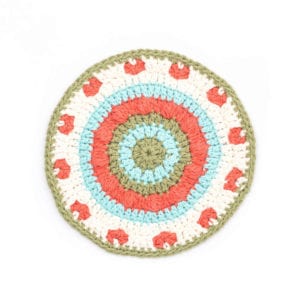 If you like Mandela's this Vintage Blossom Crochet  Dishcloth Pattern is a great little project to wip up. It would make a great dishcloth, washcloth, or even a doily for under plants. I like to use one for a coaster this would be a pretty one for that as well.
This Vintage Blossom Crochet Dishcloth was made using the Lily Sugar'N Cream, it would be a great little craft show pattern. As well as a great way to use up those little bits of cotton you may have leftover. I have a ton of part balls right now in quite a few different colours myself, so this would be a great one to work up for some wash clothes, those seem to be disappearing for some reason.
If you are looking for a Christmas gift idea, a little beauty basket with one of these in it would make a lovely gift.


Crochet Bouquet Dishcloth Pattern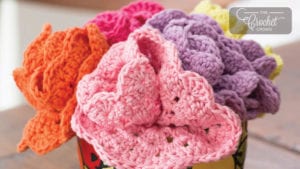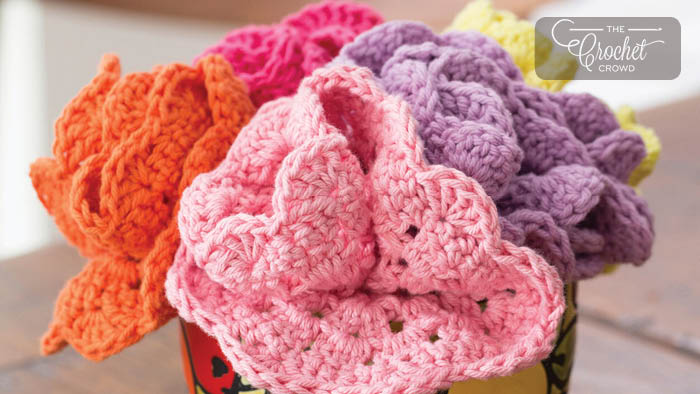 Check out these adorable Crochet Bouquet Dishcloth. How cute are they especially all rolled up in a little cup or vase? In pretty spring colours, they would make a great and very practical centrepiece on the table or counter. That would also make a great craft show idea.
The Crochet Bouquet Dishcloths designed by Michele Maks, are an easy project made with Red Heart Creme De La Creme. The Crochet Boutique Dishcloth will look so pretty in a variety of colours, keep them folded in a large vase as decoration and grab one as you need. or use the Crochet Bouquet Dishcloth as doilies under your plant pots. The bonus with this Crochet Boutique Dishcloth is not only is it pretty but it's also very versatile.


Crochet Sailor's Knot Dishcloth Pattern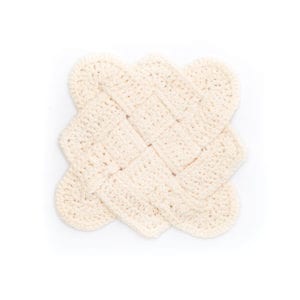 I have not made one of anything in this technique, but I have seen blankets, hats and dishcloths. This Crochet Sailor's Knot Dishcloth Pattern is another one of those patterns that I really want to learn. This Sailor's Knot Pattern is one that looks like you could have a lot of fun with it, especially where you could really play with colours with the different loops.
This Crochet Sailor's Knot Dishcloth Pattern was made using Lily Sugar'N Cream, it is another good pattern to use up those part balls especially if you wanted to make it up in different colours. It's a great craft show project as well as for gifts at least the ones you don't keep for your self.


More Crochet Pattern Ideas
More Crochet Dishcloth Patterns