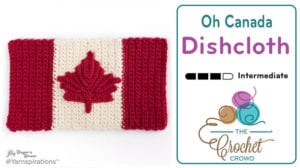 Crochet Canadian Maple Leaf Dishcloth
For Canadians and friends who love Canada, you can show your patriotic support with the Crochet Oh Canada Dishcloth. This can also be a flag on a stick if you wish. Just crochet two maple leaves and sew one to each side and insert a stick into the one side of the flag.
This is a pretty easy pattern generally. You will crochet the flag background as one unit using a single crochet. Then, you will crochet the maple leaf and sew it to the flag.
Enjoy your new Canadian Dishcloth.


Pattern Suggestions
More Dishcloth Ideas