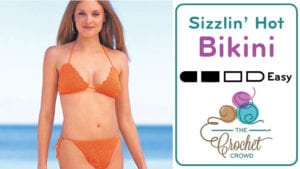 Crochet Sizzlin' Hot Bikini
There's been a HOT demand for lounging and practical beach attire such as this Crochet Sizzlin' Hot Bikini. There is a demand for women who want to wear crochet based bikinis. In fact, my former wife had a crochet look-a-like bikini. She spent a fortune on it and took care of it like it was gold. It was mass-produced and probably not worth the money if she would have crocheted it herself. However, she felt sexy and loved her bikini. She looked good in it too, I have to admit.
I was talking to Yarnspirations about finding patterns for an easy bikini. I had no idea they even had a free pattern until a few hours ago. It's classified as an Easy Level. There are 3 different size cup sizes for the top and the bottoms are the same. The cup sizes range from A, B and C. You will see the instructions on the pattern.
You should take note that is using Patons Grace Yarn. This is mercerized cotton. Notice the hook size is really small. This gives you the maximum amount of privacy without anything peek a boo between the stitches... if you know what I mean.
Do not use acrylic yarn such as Bernat Super Value, Caron Simply Soft, Caron One Pound and etc. It will not hold up to the use of being a bikini. This is intended for women looking for long term use using Patons Grace Yarn.


Pattern Suggestions
Tutorial?
There is talk of a tutorial? I don't have this yarn in stock at the moment... But I can place an order if you are interested. Please leave me a comment below in my blog if you wish for a tutorial to be made. Maybe you want something for a friend, yourself or even for that tropical destination in the middle of the winter.
If you want an Itsy Bitsy Teenie Weenie Yellow Bikini. Crochet yourself a bikini in yellow and sew on round small crochet circles if you are looking for something like that.
Crochet Clothing Pattern Ideas