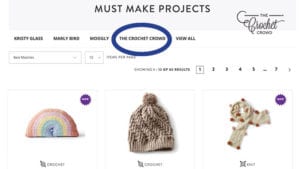 83 #BOLO (Be On the Look Out) Crochet and Knit Projects
4 Stitch Ambassadors of Yarnspirations were asked to pool together their thoughts for 2020. The question posed to us:
"What patterns are you keeping an eye out for 2020 based on the current line up of choices?"


Myself, I've been teaching for Yarnspirations since 2015, so I didn't look to the past of what I had done already but what is potential for 2020 for filming or just general attention. Other Ambassadors are much newer to Yarnspirations than I, so what is older to me, is new for them.
In the 83 Designs Round-Up, you can see the differences between us. We were asked for 12 designs that are our top choices but I decided to look at 20. I segregated the 20 into 4 categories which included home decor, bags, hats and baby. All of us had bigger ideas and produced more results. Some of the choices were duplicate as well.
You can tell by the choices on the Ambassador's go-to items. You can see their personality through the projects they chose. I'm definitely a budget – everyday crochet queen, so you can see my choices are based on what is affordable and most likely of interest with our community. I usually factor in the cost to make something when deciding tutorials and more.