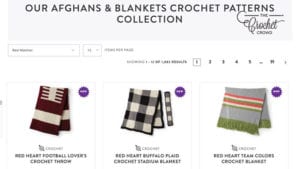 21 Most Referred to Pattern Websites
Finding that right website where it ends up being your go-to is really dependent on your own personal style. For myself, through sponsorship, Yarnspirations is my go-to website as I can teach from the catalogue and the yarns are readily available in my region of the world. For you, it could be a different story.
Some of the websites share the same patterns such as Ravelry, Love Crafts, JOANN, AllFreeCrochet and Yarnspirations can share the same pattern. Sometimes, the sites change the name of the patterns but the pattern is the same and the photography is pretty consistent.
A manufacturer, generally, needs to produce inspiration so crocheters know what to do with their products. Like me, I'm very visual and want to see a finished example.
From Personal Experience
All pattern websites have errors in their patterns. You tend to hear about the sites that have the most errors because of the volume of people who are using the website. Some websites, I have found the patterns to be exceptional in detail while other websites keep it simple.
For example, I really like the paid patterns on Etsy. The crochet designers of Europe are usually just so inspiring with their projects. However, if I was simple and easy, maybe Ravelry in the place to be to locate that easier.
Speaking bluntly, I tend not to use websites where the membership is required. However, I've been around so long that websites like Ravelry, you can only play within the website if you have a membership. Others may allow you to look around but if you want something, you may have a membership requirement to get further.
The list below are based on what The Crochet Crowd Stitch Social suggested. Yarnspirations help keep The Crochet Crowd operational, so I do suggest signing up for their newsletters as you can receive inspiration and discount deals too.
Most Referred To Pattern Collections
Click on the pic to go directly to their websites. The list is in alphabetical order by company name.