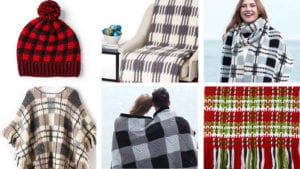 8 Plaid/Gingham Projects
Trend reports say crocheters are attracted to plaid/gingham ideas. The projects vary from hats to blankets to even ponchos. There's no denying it, plaid is hot!
My friend, Marina, has fallen head over heels for plaid. A plaid coat, plaid shirt, plaid pj's, plaid leggings! She just cannot get enough of it.
Below are some ideas for you to enjoy this love for plaid. It is expected to be a continuing trend for some time to come.
What is the difference between Buffalo Plaid and Gingham?
Buffalo plaid is the contrasting of red and black. Gingham is the same look but with other colours. Not too complicated... eh!
Rad Plaid Blanket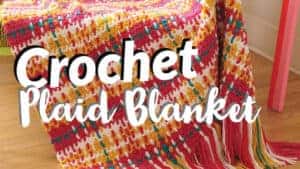 The Crochet Rad Plaid Blanket is the same design as the Christmas Caron United Version we did back in 2015 but is now updated to include a fresher colour look.
---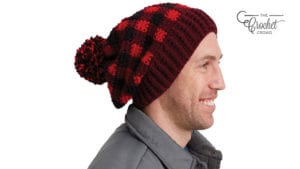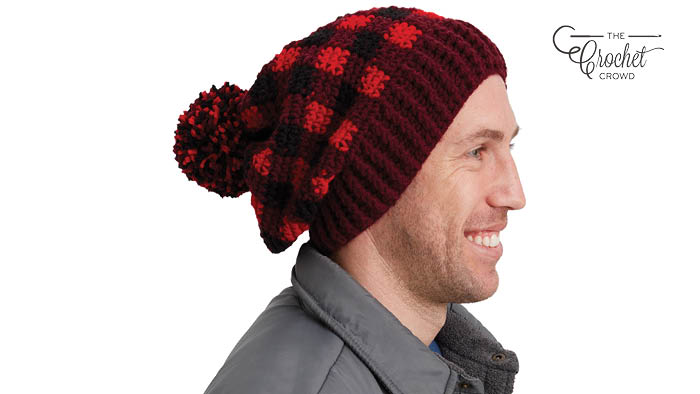 Buffalo Plaid Adult Hat
The Crochet Buffalo Plaid Hat is intended for adults. It is using Red Heart Heat Wave yarn, you know... the yarn that automatically heats up in the daylight.
In the tutorial, I provided below, I tell you what you can do to change the size. It's all worked up in multiples of 6.


Now... if you are scared of whether you can decrease the top, this one doesn't. You will crochet the entire head up to the top of the head without decreasing. The very end, you will run a strand through and bunch of the hat on top.
The tutorial also includes how to make the pom-pom, if you wish.
Tutorial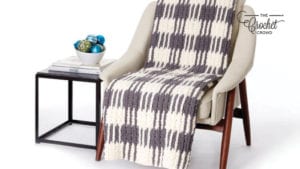 Gingham Blanket
This blanket, the Crochet Gingham Blanket and the sister one directly below are the same pattern.
Originally, the first one below came out and this one followed several months later. Both of these designs are by the same designer, Erin, from Ottawa Ontario.


Styled for more neutral decor with the colours of Vintage White and Dark Grey Bernat Blanket Yarn.
To change the size of this blanket, it's in multiples of 12 chs + 9.
The technique is so simple that it's not even funny.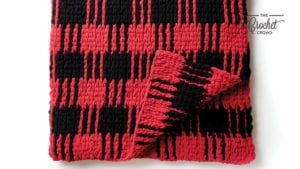 Buffalo Plaid Blanket
This original Crochet Buffalo Afghan was designed first in honour of the Canada 150th celebrations.
It's an optical illusion of how it's made. In fact, when I was showing it at a live show, I really couldn't figure it out. I actually thought it could have been knitted. The tutorial takes away the mystery and uses the Split Half Double Crochet stitch to form the stitches. It's that particular stitch that fools you to think it's knitted.


To change the size of this blanket, it's in multiples of 12 chs + 9.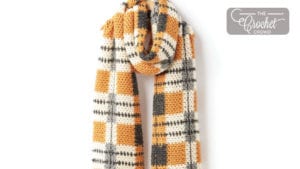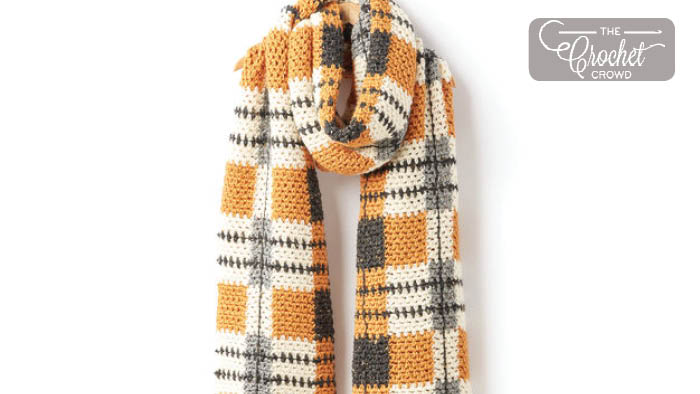 Super Tartan Scarf
Introducing the Crochet Tartan Scarf. For Fall / Winter 2016, it's all about Super Scarves. In fashion, this season is oversized scarves that are designed with massive lengths. Clearly, this is for those who are looking to make a fashion statement with their wardrobes.
This super scarf is really neat. You can learn how to do Tartan Looks for scarves but use the knowledge to make Tartan looking Afghans.


It's completed, somewhat, like a graphghan for the colouring with layers added on. A visual diagram key and showing you how to overlay the one vertical line after the project is completed.
The fringe is added on afterwards. It is crocheted in Patons Shetland Chunky and Shetland Chunky Tweeds
Tutorial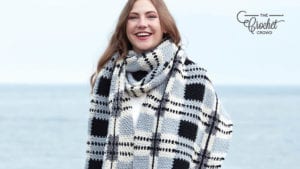 Gingham Scarf
I am a sucker for plaid and big scarfs when it's cold out so I am loving this Crochet Gray Tartan Scarf I can't wait to make myself one. This wonderful Crochet Gray Shades Tartan Scarf is classed as Intermediate, normally that would scare me, but I took a glance at the pattern and the diagram it's not that scary. Made with the new Red Heart Heat Wave it's a beautiful addition to your cold-weather wardrobe or a wonderful Holiday Gift.


You guessed it, this is the same pattern but with different colouring and yarn. The pattern is identical in the diagram as well.
Tutorial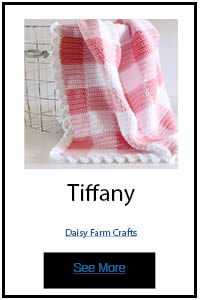 Daisy Farm Crafts Gingham
In fact, Hannah & Tiffany at Daisy Farm Crafts Blog has been really pounding out a lot of gingham/plaid inspiration lately.
Daisy Farm Crafts is also a fellow Stitch Ambassador for Yarnspirations.com. She has just a few on Yarnspirations but their website is loaded up with ideas.
They also have a beautiful round up of 15 Gingham Ideas too. It's a must-see.
Daisy Farm Crafts does a demonstration below. Please enjoy.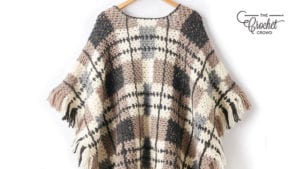 Plaid Poncho
The Crochet Plaid Blanket Poncho is a free pattern on Yarnspirations.com. It has a striking resemblance tot he Tartan Scarf we did earlier. Both have the exact same graph to follow to make them.
The biggest difference is that 1 graph equals the width of the Tartan Scarf and this version has a repeat in the graph to take this scarf from about 24" to 38" wide. So if you are thinking about a wide plaid blanket, you can use this concept to make it bigger and make the graphs bigger. I show you how to do that in the tutorial provided.


This Tutorial is A Bit Different
This project is not for beginners. It will require you to read the graph to follow the block colouring provided. So I have done this tutorial differently.
I go through about 12 minutes of taking you through the instructions.
I show you how to make your graph wider and show you how to do the graph for the front area.
I then use the Tartan Scarf Tutorial as the follow up as the scarf shows how to read the graphs more carefully, follow the first few lines. I show you how to change colours and create looks.
I then show you how to finish this off with the vertical thin lines plus do fringe.
Tutorial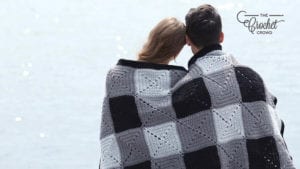 Stadium Crochet Blanket
I like to keep a blanket in the car because you never know when you might need it, this Crochet Buffalo Plaid Stadium Blanket is perfect. If you're like me in the colder months I go to a lot of outdoor events, this Crochet Buffalo Plaid Stadium Blanket is great to take with you it wraps up and has a strap making it so easy to grab and go and keep you warm. Made with Red Heart Heat Wave if you have knowledge of granny squares this easy blanket is great for your own use or to give as gifts.


Using Red Heart Heat Wave yarn, the blanket will naturally warm up to 12 degrees warmer. This making the ideal yarn for sitting in the bleachers or places where warmth is definitely something you need. It's activated by UV, meaning it naturally warms up in the daylight. Direct sun isn't required, just daylight.
Tutorial
Each one of the solid granny squares in this Stadium Crochet Blanket is only 5 rounds. Once the 5 rounds are complete. End the square and make another.
The tutorial below demonstrates how to make a solid granny square. As you can see, you can make the squares go as big as you need to.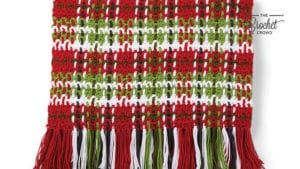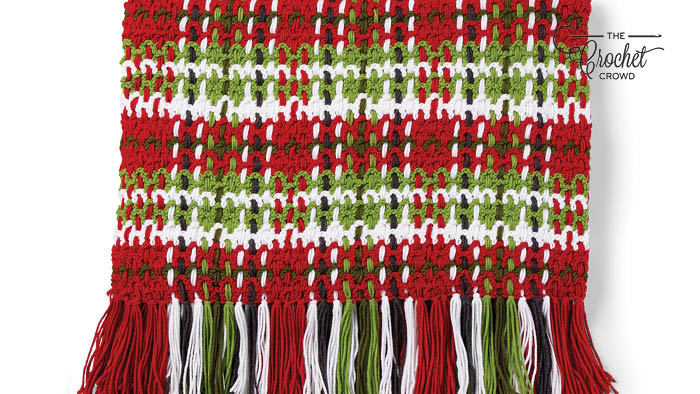 Christmas Plaid Blanket
Learn how to do a Crochet plaid blanket/afghan. The trick to the plaid is getting the right amount of rows in place so the vertical stripes have the right effect. If you rush changing the rows too quickly, you will miss the effect. I know this from first-hand experience.
The yarn used in this tutorial is Caron United Yarn. If you need to switch to Bernat Super Value. You can substitute easily. Here is the list for the substitution if using Bernat Super Value. I have looked at the colour of Bernat Super Value and came up with close comparisons and given the name of the colour as a substitution.


Berry – 3 Balls
White – 2 Balls
Lush (light green) – 2 Balls
Forest Green – 2 Balls
Dark Grey – 1 Ball
The yarn colours names or shades are not the same between the brands, you will need to look at Bernat Super Value and get colours that are close. Of course, if you prefer to have something in different colours, you are the artist, you can decide what is right for you.
In the video tutorial, I hold up two help sheets that I made for myself. Below are my help notes.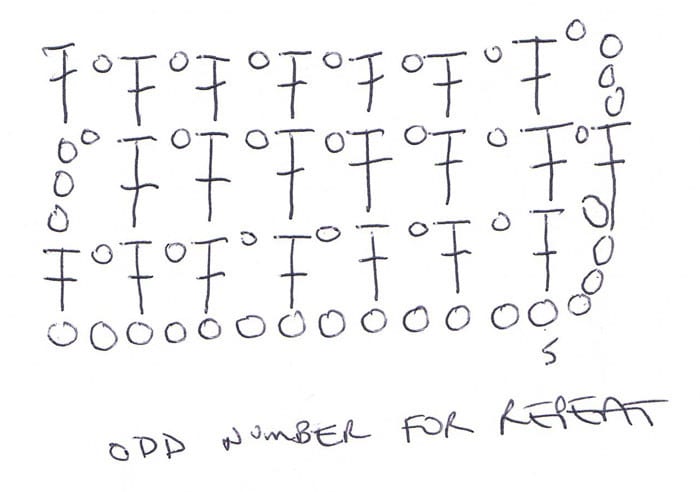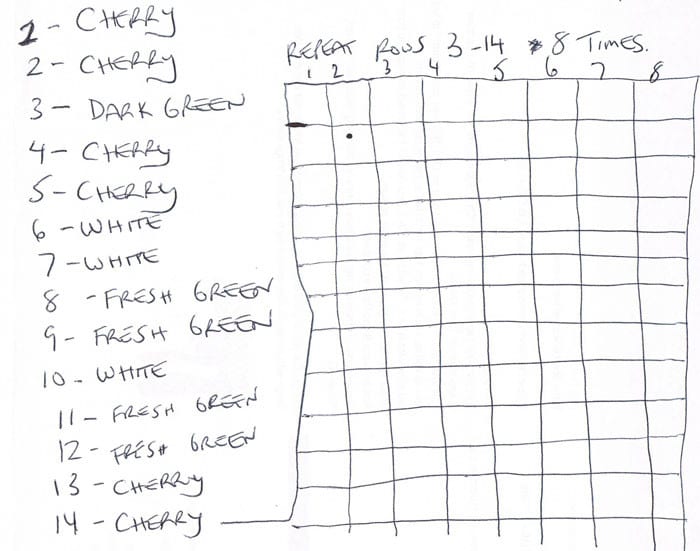 More Afghan Ideas