Crochet Hat & Scarf Set Patterns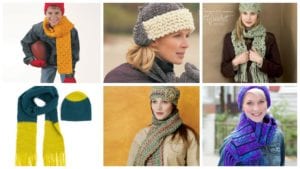 Winter is the season that feels like it lasts the longest, and staying warm is really important, Hats and scarfs are the best accessories for helping to keep us warm when it's freezing out. When it's one of those days you have to actually leave the house even know you know it's definitely warmer inside than it is outside.
You can add your favourite colour to your outerwear game, with there being so many colours and types of yarn the possibilities are really endless as to what you can create for a hat and scarf set. This collection of patterns are some of the many cute sets that I came across for the whole family. It's the 41st of January and it doesn't feel like its getting any warmer out hats and scarfs are still muchly needed out there.
---
Crochet Sheepskin Hat, Scarf and Mitten Patterns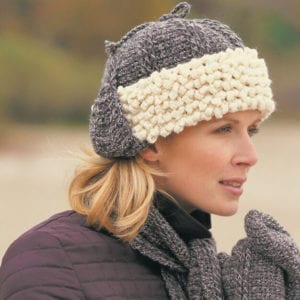 I absolutely love this set, I am not sure what it is about it that I love so much but I do. It looks like it would keep you cozy and warm if you were out for the day skating on ponds, or snowshoeing in the woods. This Crochet Sheepskin Hat, Scarf & Mittens Pattern is an intermediate level pattern that will keep you nice and toasty in all your outdoor adventures.
The Sheepskin Hat, Scarf and Mittens are made using Patons Classic Wool which is a great yarn for keeping you warm as well as stylish and it has such lovely colours, I just bought some not that long ago, because it was a pretty I have no plans for it yet, but it was pretty so I will find something to use it for. I may use it to try these mittens looking at the pattern it doesn't look to scary, maybe they with actually end up the same size for once!

Crochet Jagged Lines Hat & Scarf Set Patterns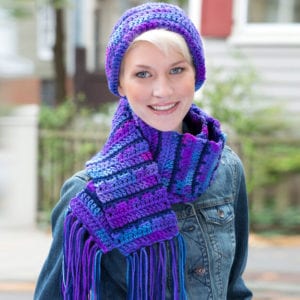 This is a really cute set I'm loving the colours used in this Crochet Jagged Lines Hat & Scarf Set Patterns. I'm not big on wearing scarfs when it comes to them, I more prefer an infinity scarf or cowl. So if I were to make this scarf set up I would likely skip the fringe and whip stitch the ends together for an infinity scarf and I'd totally add a pom-pom because I love them.
The Jagged Lines Hat & Scarf Set was Designed by J. Erin Boland and it was made using Red Heart Super Saver I love a lot of that colour line and its texture isn't too scratchy, It's one of my go to's when I need a lot of one colour. So there are so many fun combinations you could mix up for this set, one for every mood. This set would also be great to make up for craft shows or gifts, now is a good time to start planning for both.

Crocheted Cloche & Scarf Set Pattern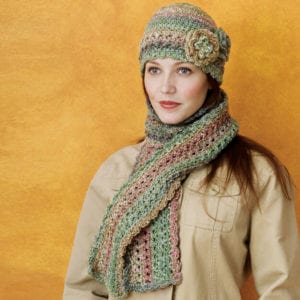 This adorable set is a little more on the fancier side if you are going somewhere you want something a little more dressy but warm this Crocheted Cloche &  Scarf Set Pattern would be a great set for that. Personally I would switch the flowers for some really nice buttons and probably add a pom-pom (is this a surprise to anyone?) and for the scarf, I would likely chain it a little longer and whip stitch the short ends together this would make a really pretty infinity scarf!
This Crocheted Cloche & Scarf Set Pattern and was Designed by Katherine Eng and was made using Red Heart Collage. This is a very pretty yarn worked up so this set will easily be one of your favourites when you're done making it. This is another set that would be good for craft shows as well as Christmas gifts. I may try this one for my mother in law although she is quite skilled herself, she told me she last Christmas that she loves it when I make her things because I make things that she may not, and she makes things that I may now, like slippers, she is the queen of slippers I am very much now, so I completely get what she means.

Crochet Squares Hat & Scarf Pattern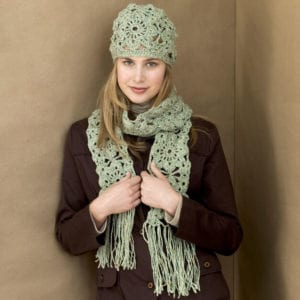 Like the last one, this too is on the dressier side, the Crochet Squares Hat & Scarf Pattern is charming as well but a little airier than the Crocheted Cloche & Scarf Set Pattern. Not going to lie when I saw the name of it, it confused me a little because I wasn't sure how you could make a round hat with squares, but sure enough, when I read the pattern it actually is made with squares. Then it got my wheels turning and I was curious what it would be like made up in different yarns, like how would it turn out with chunky yarn.
The Crochet Squares Hat & Scarf was Designed by Lisa Gentry. The set was made using Red Heart Fiesta. This set is very intriguing to me where it is made up with squares I may end up trying this one out of pure curiosity, it can be a Christmas gift double bonus! If it's as fun as I'm thinking it's going to be I may make up a few to have for craft shows, in different colours, I love unique things I really feel like this is unique to me.

Crochet Color Burst Beanie & Scarf Set Pattern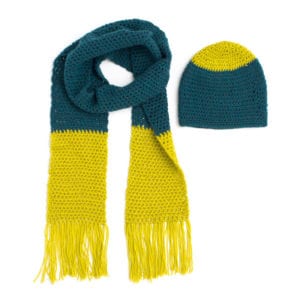 This Crochet Color Burst Beanie & Scarf Set Pattern is more on the practical side, but I'm pretty excited about it, because I love mixing colours and the fun combinations you can come up with for this is pretty exciting to me, and mixing solids with variegated. The amount of fun you could have with this simple little patten, from sports teams to school colours you can be kept pretty bust with this set! Making these up in school colours and selling them at your local craft show these would be pretty popular!
This Crochet Colour Burst Beanie & Scarf Set Pattern was made using Bernat Super Value in this pattern they have tons of colours in that line. This is a great set to make for everyone in your family. This would also be a great little project to make up if you're one who likes to make them up for donating to different organizations.

Crochet Winter Wear Accessories Patterns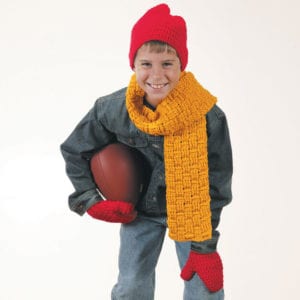 This is the last pattern in this collection, and its a set for the kids, they need to keep warm too, even though if you were to ask them they would have different ideas, kids are funny sometimes. My middle child tried to leave the house this morning for school in a little crown my friend Meghan made her, doesn't cover her ears at all, it's snowing and cold, although the crown is super cute it would do nothing for keeping her warm. This Crochet Winter Wear Accessories Pattern is more what she needs for days like today.
The Crochet Winter Wear Accessories Set was Designs by Marilyn Coleman and Gayle Bunn and made using Red Heart Super Saver. This set would also be good to have on hand if you provide child care for little ones who if they are anything like mine are always forgetting their mitts at school or on the bus so they can still go outside and play.