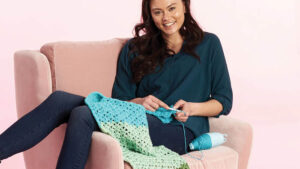 The Crochet Lacy Stripes Scarf is an easy 2-row repeat. It's visually easy to follow along. Using Caron Big Donut that can be found at Michaels.
The pattern is two types of v-stitches that alternative between each other. You will see in the tutorial if you need the extra help on what to look for so you can easily follow this across.
You can either let the Caron Big Donut O'Go just play its own story but in the tutorial, I suggested that if you don't have enough yarn to go across the row of the same colour, you can end it early and change the colour over so you don't end up with a partial row across. The tip will allow you to do even more with colour play if that appeals to you.
More Free Patterns

Tutorial
More Scarf Patterns