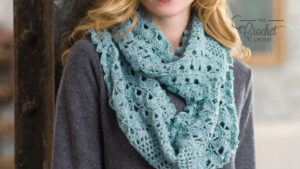 The Crochet Infinity Cowl is a lacy 74" cowl that is double wrapped when you wear it. It has a scalloped shell and mesh section within.
Red Heart Stardust yarn is no longer available, you can substitute with 5 balls of Patons Kroy Socks yarn. It has a nylon and exquisite appearance, like using higher-end yarns. The tutorial is using Deep Sea Colors as the colour palette in this yarn.
There are two sections in this cowl. One section is the shells and the other is the mesh. Once you pass through the long repeat, you will repeat twice more and then continue onward. You join the long scarf-like panel at the end to form the exaggerated ring. You can apply the ruffle edge but I like it without but you can make that call. Maybe just a single crochet border across would be sufficient as well.
More Ideas


Tutorial
More Cowl Patterns