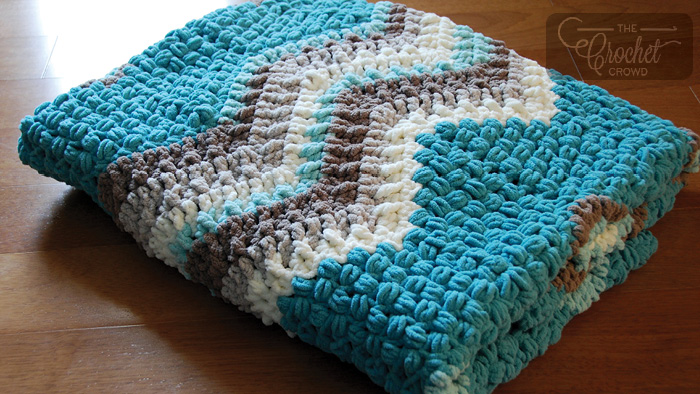 Crochet Breakaway Waves Blanket
Crochet Breakaway Waves Blanket
When I stumbled across the Bernat Baby Blanket Stripes yarn in Tiny Teal, I immediately knew I wanted to crochet a chevron wave blanket with it.  Sometime the yarn directs me what to do.  I really love when inspiration hits that way!
I wanted to do larger color-block style section, so paired it up with Bernat Blanket yarn in Light Teal to crochet this design.  The name Breakaway Waves came because when my son looked at it, he said it reminded him of crashing waves, and the little foamy whitecaps that are formed in the water.
This is a dense blanket, alternating the Bean Stitch with a section of front post stitches for a deep texture.
When you upload your project to The Crochet Crowd Stitch Social Group or Instagram, feel free to tag me so I can see what you have crocheted.  Follow me on Instagram @ jeannestein or on Facebook.  My designs can also be saved in your Ravelry favorites by following me HERE.
More Bernat Blanket Stripes Ideas
More Bernat Blanket Ideas
Designs by Jeanne