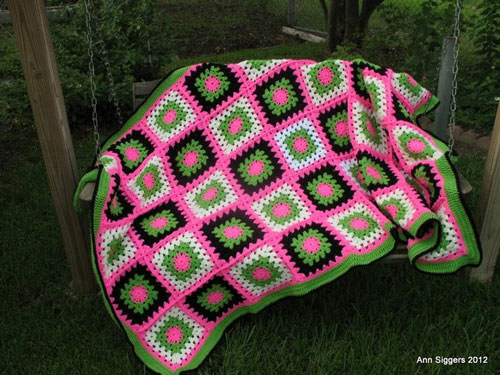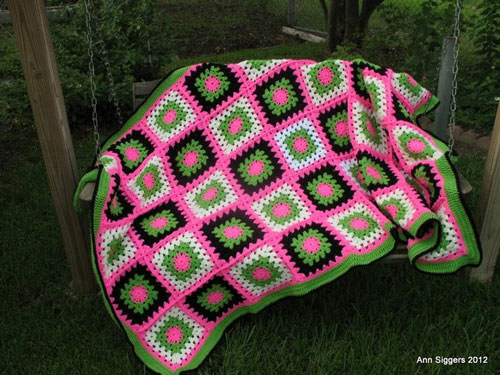 Crochet Watermelon Twist Afghan
This afghan was created by a viewer. Ann Siggers created this design using the Colour Burst Afghan concept that I had designed. This was so popular, Red Heart Yarn and AllFreeCrochet.com also featured this afghan for being a favourite. Get this free pattern now.
by Ann Siggers ©2012 Ann Siggers
This afghan has been created by Ann Siggers. Ann is an active member of The Crochet Crowd® that has excelled in learning crochet through my videos. Ann created this afghan and was recognized by Red Heart for her vibrant designs. Ann appreciates traditional work but loves to play with colour and doesn't necessarily want to create projects that are expected.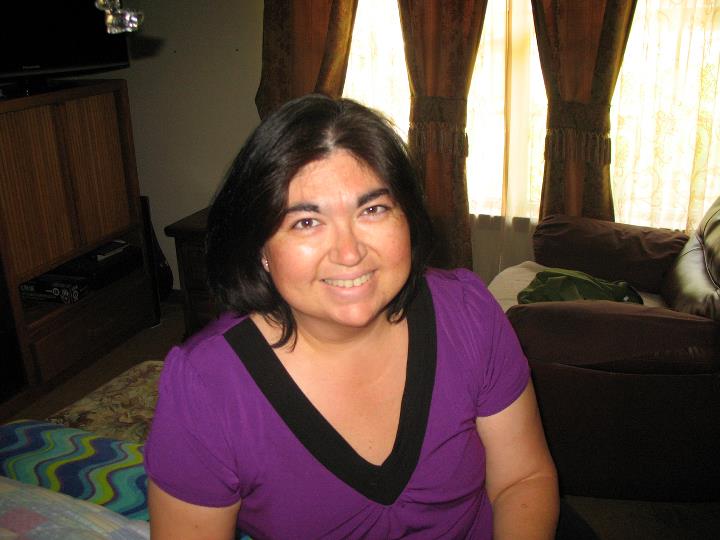 On a personal note,  it has been a pleasure to get to know Ann and watch her flourish. She seriously started to crochet only 11 months ago and is really creating amazing stuff. I love watching her grow. Her enthusiasm is then echoed with the positive comments she shared with others. Over all, she's on my list of viewers to hopefully meet one day.
A finished afghan will measure 48″ by 71″ and consists of only 40 squares in total.
20 Squares of Pink/Green/White
20 Squares of Pink Green Black
Materials Used
Size H Crochet Hook, 5.0 MM
Super Saver Yarn by Red Heart, 7 oz Balls, 11 Balls Total.
2 balls Black, 4 balls Pretty N' Pink, 3 balls Spring Green, 2 balls White.
---
Video Help & Instructions:
This Video Show The Concepts of this circle granny square. This is called the Colour Burst Afghan Video. Also, I show you how to join the square together in this video tutorial series. Ann substituted yarn and added extra rounds to make the squares bigger.
All squares are done using the same instructions. The only difference is the colours.
Using Pretty 'N Pink – Ch 6 and join, ch 3 (counts as 1st dc) 15 dc and join to top of ch 3, 16 dc
Dc ch 4 (counts as dc, ch 1) *dc, ch 1 in each dc around, be sure to count 16 or the next round will not match properly. Fasten off Pretty 'N Pink
Using Spring Green – Fasten on & Ch 3 and put 2 DC into the same space. *Ch1 and put 3 dc, in the second ch1 space on the previous row. Skip next Ch1 space and put 3dc, ch2, 3 dc, ch1 repeat *twice, sk space, 3 dc ch 1 and join.
ch 3, 2dc, ch 1, skip to next space *3 dc, ch 1, skip to next space 3 dc, ch1, 3dc, ch 2, 3dc, ch1 (corner made) continue from around and join, sl st to corner. Fasten off Spring Green.
Using Black for 20 Squares or White for 20 Squares – Fasten on & Ch 3, 2dc, ch 1, skip to next space *3 dc, ch 1, skip to next space 3 dc, skip to next space 3 DC, ch1, 3dc, ch 2, 3dc, ch1 (corner made) continue from around and join, sl st to corner
Repeat Step 6 & Fasten off.
Fasten on Pretty 'N Pink and follow instructions in Step 5.
Fasten off & weave in ends.
Once all 40 squares are completed.
Join all squares together using SC method to give a raised line texture using Pretty 'N Pink. Ensure all squares have the right side facing up when joining.
To do the border, Fasten on Spring Green, CH 3 & Double Crochet in all stitches around the afghan. In corners, 1 DC, CH 1, 1 DC. SL ST at the end of the rotation. Repeat this two more times.
 Enjoy your new afghan.