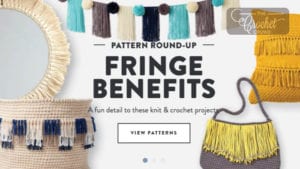 18 Fringe Benefits for Knitters and Crocheters
We have 18 ideas for both crocheters and knitters that involve fringe. This is the 18 Fringe Benefits Collection of patterns. Projects range from buntings to baskets and purses. We also have some afghans and pillows too.


More Ideas
Fringe is really subjective to personal taste. I find myself getting lazy towards the edge of a project to not apply the fringe but in some cases, it's the fringe that sets the project off.
More Collections