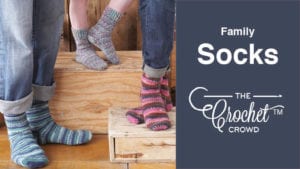 Crochet Family Socks
Crochet Socks for the Family are the hit this year. Sized from Toddler 2/4 to men's 10/11 sizes with several sizes in between.
These socks start at the cuff and work down to the heel. Unlike other socks I have taught that are considered toe-up. What's easier to follow? I prefer the cuff down. It was easier to maintain the count of the heel area, in my opinion.
Using Patons Kroy Socks, this sock yarn has nylon in it. So the socks you will make are intended and will be long-lasting. Ensure to follow the correct size crochet hook and yarn for the most accurate size.
The tutorial will walk you through all sizes but will focus on the 2/4 years of age size. I believe I have left you enough information in the tutorial to follow the instructions for all sizes.

More Pattern Ideas
Tutorial
More Sock Ideas