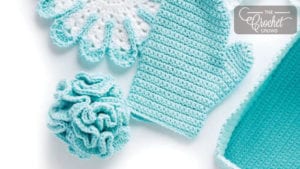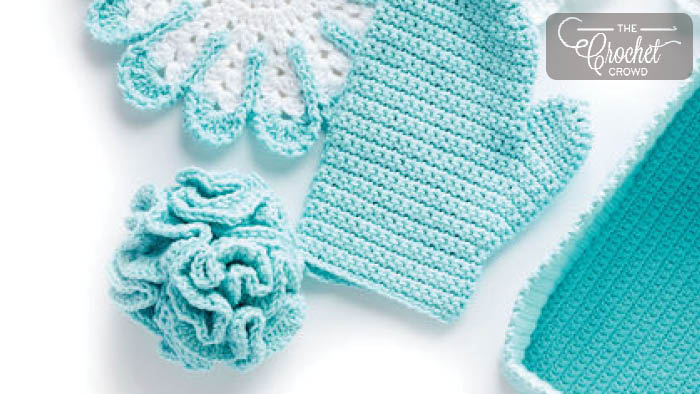 Crochet Bath Loofah
A bubble bath, a soothing shower… oh look, a Crochet Loofah pattern. This is a 4 round project that is really so easy, it could be classified as a beginner level project.
The first round is 25 single crochets. Then the next 3 rounds get 3 double crochet in each stitch. In the end, the final round has 625 stitches. It's what makes it so full looking.
Use the tutorial below if you need extra help.


More Pattern Ideas
Tutorial
More Bathroom Ideas
Bernat Handicrafter
,
Crochet Video
,
Easy
,
Kitchen & Bath
,
Lily Sugar'n Cream
,
#4 Yarn
,
Bathroom
,
Bernat Handicrafter
,
Crochet Bathroom Decor
,
Crochet Spa Facecloth Pattern
,
Crochet Tutorial
,
Crochet Washroom
,
Crochet Washroom Decor
,
Easy Crochet
,
facecloth
,
Gift Idea
,
Lily Sugar'n Cream
,
pattern
,
spa set
,
Washroom
Beginner
,
Bernat Maker
,
Crochet Mats and Rugs
,
Crochet Video
,
Home Decor Patterns
,
Kitchen & Bath
,
Bathroom
,
Beginner
,
Beginner Crochet
,
Bernat Maker Home Dec
,
Crochet Bathroom Decor
,
Crochet for Floor
,
crochet mat
,
crochet rug
,
Crochet Tutorial
,
Crochet Washroom
,
Crochet Washroom Decor
,
Floor Coverings Crochet Floor Coverings
,
mat
,
Rug
,
Washroom
Bag Patterns
,
Kitchen & Bath
,
Lily Sugar'n Cream
,
Michael Sellick
,
#4 Yarn
,
Bag
,
Bathroom
,
Crochet Bag
,
Crochet Bag Pattern
,
Crochet Bathroom Decor
,
Crochet Market Bag
,
Crochet Shopping Bag
,
Crochet Tote
,
Crochet Washroom
,
Crochet Washroom Decor
,
Single Crochet
,
tote
,
TV
,
Washroom
,
Yarn Tote