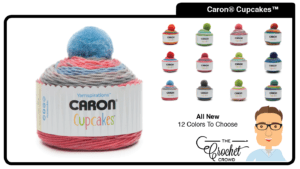 What To Do With Caron Cupcakes Yarn
Caron Cupcakes are 100% Acrylic and are designed for smaller projects. Packaged as a cupcake, it just makes sense to call it Caron Cupcakes Yarn. It is a Light (3) weight yarn and is intended for finer projects.
The ball bands have either knit or crochet pictures. The pattern on the back of the label matches the photograph.
I did the 8 year old size in video format. I had yarn left over to do the 10 years of age. My tension is so loose that the 8 year old size fits me comfortably, which tells me that there is enough yarn to do adult size projects with this too!
So if you are looking for a cheerful fun winter hat. This may be it.
Video Preview
Yarn Story
100% Acrylic
Light (3) Weight
Caron Cupcakes Yarn Gallery