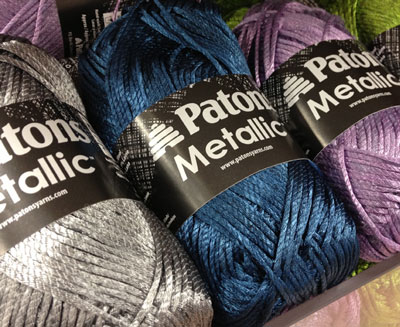 Patons Metallic Yarn

New to Patons is the Patons Metallic Yarn. The shiny factor of this yarn is undeniable. It reminds me of high polished silverware. As you may appreciate, the shiny yarns tend to be aggressive and rough on the skin. This is one of the yarns where the shine is there and the softness is incredible. No scratchy feeling at all.
Due to the manufacturing of this yarn, it is exceptionally strong and I suspect is great for a long lasting project. The yarn is a cross between 63% Nylon, 28% Acrylic and 9% Wool. The yarn is on the thinner side of the yarn weight of level 4. Suggested knitting needle size of 5 mm or US 8 and crochet hook is a size 5 mm or size H. The price point is about $7 per 85 gram or 3 oz ball.
One thing I did noticing when touching this yarn is that it is slick in the sense of being slippery. It has a lightness quality because of the slippery aspect and I think hangs very well in a scarf or other accessory you may want to create. A lacy looking cardigan or something along those lines would be incredible.

At the time of publishing this review, there is 7 gorgeous colours which include blue steel, metallic green, metallic purple, gold, pewter, burnished rose and metallic orange.