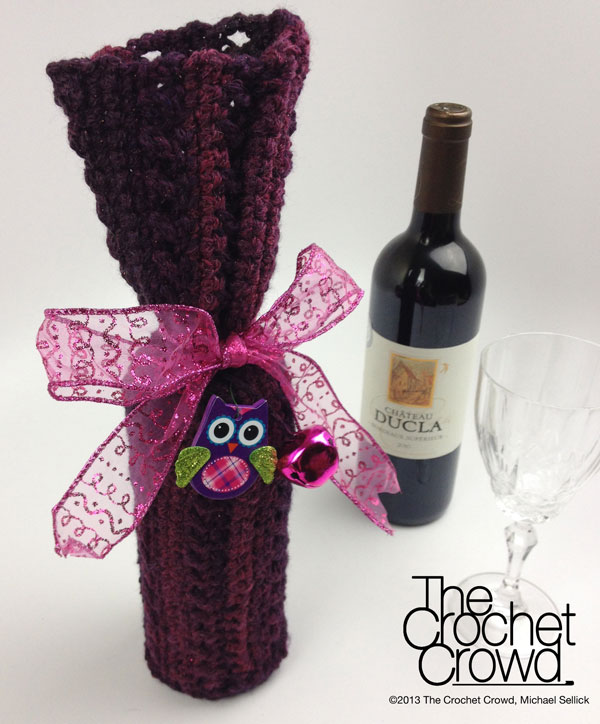 Sangria Wine Bottle Cover
Gift 1 – 12 Gifts of Christmas Series
Typically with sangria wine bottle covers, we start at the bottom of the bottle and crochet around in circles and build ourselves up to the top. For transitioning yarn, this creates colours to transition in the horizontal direction going up. In my design, I wanted the bottle to be worked in rows from top to bottom. The colours will transition in vertical stripes instead.
I've used one ball of Red Heart Boutique Midnight, colour is called Serenade. The yarn has a sparkle and is in the beautiful wine tones for the ultimate gift giving idea. Substitute the yarn to match a 6 mm or size J crochet hook.
Bottle is 3.5″ diameter x 14″ tall. In this pattern, I will show you how to change the size to customize your cover to your bottle.
Click Read More For Free Pattern if Looking At A Preview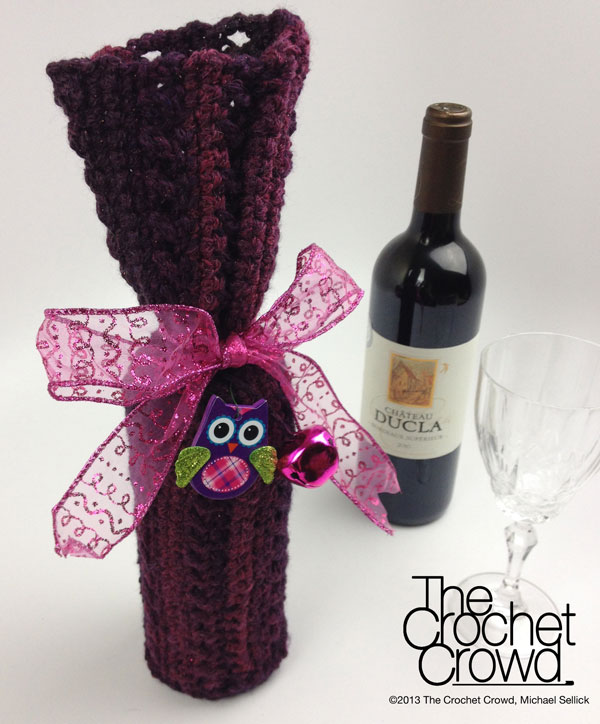 Tips & Advice

Size J or 6 mm Crochet Hook, 1 Skein of Red Heart Boutique Midnight – 2.5 oz or 70 g, 153 yds or 140 m. Use any yarn that compliments at 6.0 mm or Size J Crochet Hook.
You may change colour at any time. There is a repeat pattern within the bottle. A suggestion may be to have the Cris Cross Row to be a different colour to accent your Sangria Wine Bottle Cover.
How to Change the Size of Your Wine Bottle Cover
I would strongly recommend you have your bottle handy, or an equivalent size you want to use for your cover. You can customize the diameter and height to match. This cover will fit a typical wine bottle of 3.5″ diameter by 12″ tall.
The cover is made up of two components.
The base of the cover is completed by going in rounds. Once to the desired size to fit the bottle. Stop and fasten off.
The vertical rows are designed for the height. If you would like your height to be shorter or longer, you just have to ensure you chain in sets of 2. Add 1 chain at the end to begin.
Abbreviations
SC – Single Crochet
SL ST – Slip Stitch
X – Cross Stitch
DC – Double Crochet
CH – Chain
ST(S) – Stitch(es)
* – Repeat
INC – Increase by 2 STS in 1 Stitch
Round Base Instructions
Round 1: CH 2; 6 SC in 2nd CH from hook; do not join but work in continuous rounds. Place marker in first sc and move up each round.
Round 2: INC 6 times – 12 sc.
Round 3: *SC in next SC, INC. Repeat 5 more times – 18 SC.
Round 4: *SC in next 2 SC, INC. Repeat 5 more times – 24 SC.
Round 5: *SC in next 3 SC, INC. Repeat 5 more times – 30 SC.
Round 6: *SC in next 4 SC, INC. Repeat 5 more times – 36 SC. Mikey's Bottle is size is ended at this round. Fasten off and weave in ends. For larger bottles, continue on to make the base diameter larger.
For bigger base diameters – Round 7: *SC in next 5 SC, INC. Repeat 5 more times – 42 SC.
For bigger base diameters – Round 8: *SC in next 6 SC, INC. Repeat 5 more times – 48 SC.
Fasten off when you reach the diameter you need.
Side Cover of Bottle Instructions
Adjust the chain to match the height of the bottle. For Mikey's bottle the following instructions are for the typical wine bottle. Adjust the number of rows to match to wrap the bottle with the cover. You may need to reduce or add rows to cover your bottle if it's not the same.
Special Instructions:
Cross Stitch (X) = Skip next stitch, DC in next stitch, cross in behind thef DC just made and dc in skipped stitch.
CH 41, SC 2nd Chain from hook across the chain. For different heights, keep your stitches in an even number and add 1 final chain at the end. The Cross Stitch is reliant on the stitches to be an even count.
CH 1, SC across. Turn
Ch 3, X across the row. DC in the final stitch. Turn.
Repeat by doing 2 rows of single crochet followed by 1 row of X Stitch. Mikey's pattern repeats for a total of 6 times beyond the first group. Cover will measure approximately 11 inches. Fasten off and weave in ends.
Continue repeating steps 2 – 4 for larger diameter bottles until you get the desired wrap to circle the bottle.
Assembly Instructions
Sew or Slip Stitch the two seams together of the Side Cover that wraps around the bottle. Round tube is formed which bottle fits inside.
Sew the Round Base to one side opening of the tube. This is the bottle of the bottle cover.
Optional Tie String. CH 65 and fasten off. Weave chain into the bottle where the bow is depicted in the photograph. Tie with a bow tie.
Optional Bow Tie, Owl and Bell as seen in the photo. Using a Wire Lined Ribbon, tie around the neck of the bottle where it starts from the body of the bottle. Using floral wire or string, tie the bell, owl or other embellishments to the bow. I purchased the ribbon, bell and owl embellishments at Wal-Mart.
Follow Along with Mikey's Video Tutorial
 ©2013, The Crochet Crowd, Designed by Michael Sellick – The Crochet Crowd