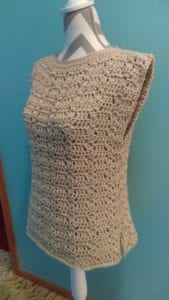 Crochet a Cool Summer Top
New choices were added on May 3, 2022. 
When I sit down to crochet, my favorite things to make are baby blankets and afghans.  But more recently, I have played around with clothing, especially summer tops.
I made a few before my Crochet Cruise earlier this year, including the Peacock Summer Shell from the list below.  It's a great first piece which helps to teach you how to make it fit properly.  I made this one with 3 skeins Bernat Satin yarn.  It's easy to wear over a tank top with a pair of capris.
I just made another piece that I'm absolutely in love with and cannot wait to wear it to an upcoming event.  It's the Sweet Clara Top by Kristin Omdahl.  I thought it was going to be challenging, but it's actually not bad once you get to the underarms.  It is worked in the round in one piece from the top down and with a great yarn is a fabulous piece that I plan to wear with leggings and a cami.  I did make mine a bit longer to hide the hips. 😉  I choose to Be So Sporty Yarn in Passionate Plum.  I really love the rich, deep color of it.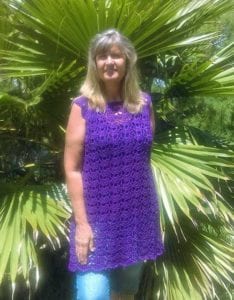 Here are a few patterns to inspire your summer crocheting.
More Crochet Collections to Enjoy