Get ready for an explosion of colour, texture, and creativity this Black Friday! We've teamed up with The Crochet Crowd and Daisy Farm Crafts to bring you the most electrifying yarn kits to take your crochet game to a new level. It's not just a sale; it's a yarn extravaganza! Grab your hooks and dive into a world of possibilities because these exclusive kits fly off the shelves and are here only until supplies last!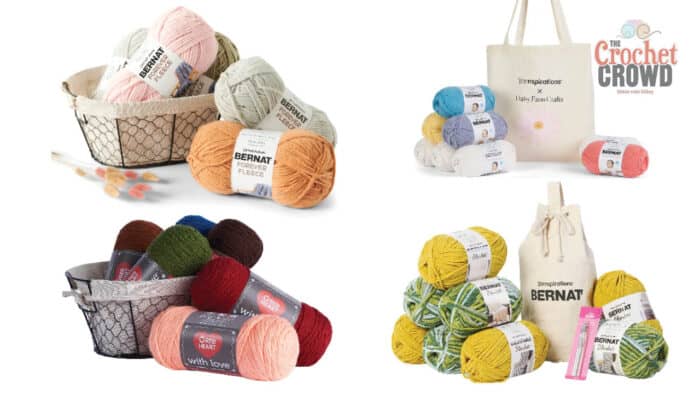 .
.
.
The Crochet Crowd's Color Riot: Where Passion Meets Yarn
Hold onto your hooks because The Crochet Crowd unleashes a burst of colors in a yarn kit that screams excitement! This curated collection is a kaleidoscope of hues and patterns designed to fuel your passion for crochet. Whether you're a crochet ninja or a first-timer, The Crochet Crowd's kit is your ticket to a crochet adventure like never before! We select Red Heart With Love yarn as a warm winter colour selection and even matching a traditional Christmas vibe.
Daisy Farm Crafts' Glamour Galore: Yarn Dreams Do Come True
Step into a world of elegance and charm with Daisy Farm Crafts' Black Friday yarn kit. This isn't your average yarn collection; it's a symphony of sophistication and style. Luxurious textures, dreamy colors – Daisy Farm Crafts has handpicked the elements that dreams are made of. Get ready to infuse your projects with a touch of glamour that'll make heads turn! With easy to use yarns such as Bernat Forever Fleece, Bernat Bundle Up and Bernat Blanket. Fast and colourful yarn projects.
Black Friday Madness: The Ultimate Yarn Bundle! 🎉
Why settle for the ordinary when you can have the extraordinary? Brace yourself for a Black Friday madness that brings you not one, not two, but FOUR exclusive yarn kits! The Crochet Crowd and Daisy Farm Crafts have joined forces to create a powerhouse of creativity. Mix, match, experiment – this bundle is a riot of possibilities, and it's your golden ticket to a crochet wonderland!
Craft Your Holidays: Handmade Bliss for Everyone
Picture this: holiday gatherings adorned with handmade wonders that steal the show. With these exclusive yarn kits, you're not just creating projects; you're crafting memories. Spread the joy with personalized gifts that radiate warmth and love. The holiday season is about to get a whole lot cozier, thanks to your magical, handmade creations!
This Black Friday, don't just shop – ignite your creative spark with the Black Friday Yarn Extravaganza brought to you by The Crochet Crowd and Daisy Farm Crafts. Hurry, because these kits are selling like hotcakes, and you don't want to miss out on the most exciting yarn adventure of the year. Unleash your inner crochet rockstar, make a statement, and let the yarn frenzy begin!