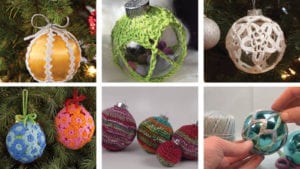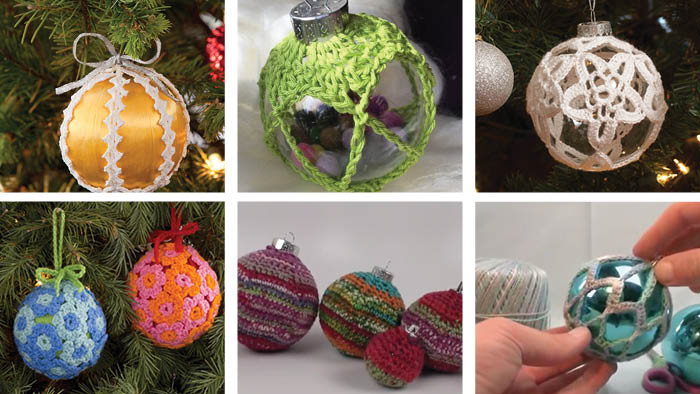 7 Christmas Crochet Ball Ornaments
A dream of mine would be to crochet an entire set of Christmas Ornament Balls for my Christmas Tree. I remember my first Christmas Tree, it seemed like a bargain as I bought it after Christmas. We assembled it with enthusiasm and the base was 7 feet in diameter. For a small apartment, it literally was like a forest in our home. What a mistake that was. Our Christmas dreams were bigger than our home. However, it's a fun story to tell.
In time, I really love pencil Christmas Trees.
They have the height without the bulk of the diameter.
They take fewer ornaments so it's cost savings for the decorations you may need to buy.
For those who like to put trees in the front windows to illuminate their home with Christmas joy, these don't take up so much light. Here in North America, the short days can be really dreary.
Storing these between the holiday seasons is much easier as it compacts down beautifully.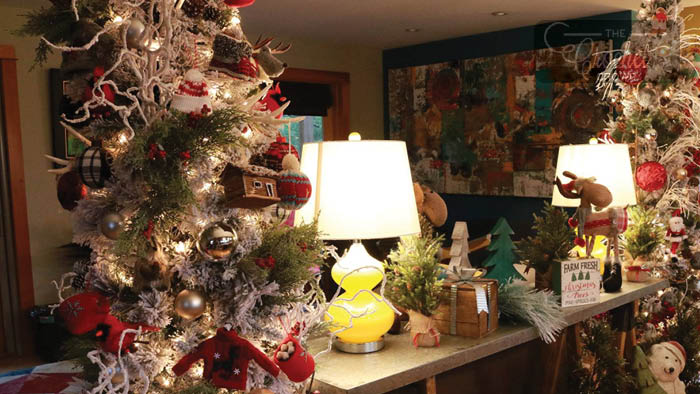 ---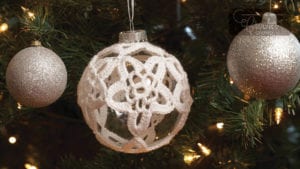 Starry Night Christmas Ornament
The Starry Night Christmas Ornament is what kicked off this whole blog entry and new tutorials for Christmas Ornaments. This pattern consists of 7 motifs. 6 of the motifs are the exact same and the top motif is slightly bigger to make room for the opening of the ball where the metal or plastic insert holds the ball.
To start with, you will crochet the bottom of the ball first. So it becomes your foundation motif. Then as you crochet the rest of the 5 that are the same pattern, as you complete the tips, you will slip stitch them together with other completed motifs to join.
Once the base motif is done and the 5 that circle the base are already connected, you will do the top motif and connect them as you complete the final round. Ensure you insert your ornamental ball inside before going too far on the top motif as it's permanently inside.

Tutorial
---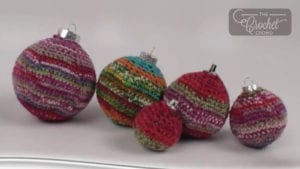 5 Sizes of Heart & Sole Balls
The problem with designing is the fact that not everyone has the same size materials to work with. The original ball I did was the one second from the left with the orange colours.
I went onto develop 5 sizes in all that I have put into one pattern called Mikey's Christmas Balls. You will notice there are more rounds the larger the ball you have. You may even figure out bigger sizes based on easy repeating growth that exists.

I had a mismatch of ball shapes from my own Christmas collection. I was heavily inspired by the look of knit or crochet socks and wondered what would a Christmas ball look like if I used sock yarn. Here is an example of the Crochet Twisting Lace Socks.

Tutorial
There is only 1 tutorial to cover the concept of showing you how to do the adjustable ring. I recommend a clear plastic ball or a colour that compliments the yarn. Just follow the pattern step by step and check off the steps that you complete.
---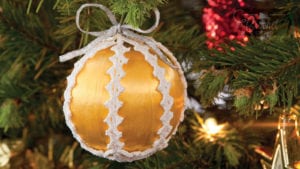 Lacy Christmas Balls - 2 Designs
At the time of writing this, I haven't yet done the pattern but is on my list for completion. This is the Lacy Christmas Ornament Balls. There are two different designs within this one pattern.
These designs allow the interior ball to showcase its colour without covering the ball completely. It's using crochet thread for this design and I believe this is one of those projects that you could make and keep for a lifetime.
It's classy, traditional and you can insert your creative joy as you make it.

---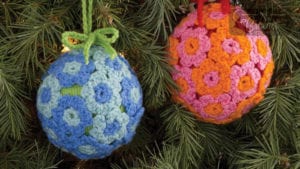 Crochet Flower Balls
I was originally attracted to the colour which led me to click this free pattern. It's called the Crochet Flower Ball Ornament. Originally when I looked at it, I winced with the dreadful thoughts of having to sew these flowers together. Then I figured, maybe the designer has us slip stitching the flowers together. WRONG, neither option. Yippe Skippy.
The flowers consist of just two rounds. For the 4" diameter balls, you will need 22 flower motifs. You can mix up your colours. You will glue them to the ball surface. Hot glue obviously works faster.

This may be a great craft for children. Just be advised that hot glue is hot. If you need proof, there's an outtake below of my glue gun experience. I would ensure you are watching over kids as they do this activity. What the hell, watch your own fingers while you are at it.
A great friend tells me to have a small bowl of cold water nearby in the event that you are using hot glue. You just never know!
Tutorial
---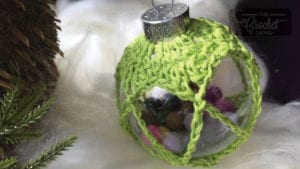 Crochet Gumball Ornament
When searching for ornaments at the store, I couldn't help but notice clear plastic or clear ornaments that had little trinkets inside. It led me to develop the Crochet Gumball Ornament.
In my case, I just put felted balls inside like a gumball machine but if you have something that is meaningful or just plain fun, why not see if you can make your own balls. The craft store, including dollar stores, generally have clear balls.
Myself, I have cats, so buying glass bulbs is almost out of the question. So I use plastic because, at night time, you can hear the decorations hit the ground.
In this example, there are 2 motifs used. 1 top and 1 bottom. Then using a chain, joining them together like a snare drum. This concept allows you to adjust the sizing if you have to.
I don't mean to be smarty pants, but make sure you put in the ball before you do the final few chains or you are going to give yourself a "Merry Froggin' Christmas".

Tutorial
https://www.youtube.com/watch?v=4ZLQen1DMjQ
---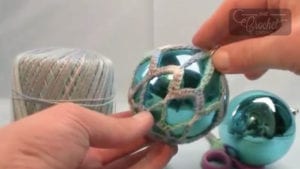 My First Christmas Ball Covering
The My First Christmas Ball Covering was developed very early in my career as I was desperate to do something for a real-life workshop. I was invited to do an in-store demonstration where people would sign up.
I had a few restrictions, I needed a project that could be done in a fast time frame where students would have success by the end of the workshop. This is going back to the 2011 time frame. I think I looked at how doilies were formed and once I understood the principles of it, I formed the shape to expand around the ball and then used the larger chains at the top of the ball to pull it shut.
I did notice in class that students really do have different tensions. Some students had coverings that were way too small or way too big. I think the trick is to look at the ball and try a few times. If you think it needs adjusting, fudge it.
Overall, a quick project to make. We had a lot of fun at that store. Angela, in purple, is one of the funniest women I have ever met in my entire life! We've been friends for years.

Tutorial
More Christmas Ideas
No post was found with your current grid settings. You should verify if you have posts inside the current selected post type(s) and if the meta key filter is not too much restrictive.
Mikey's Christmas Balls