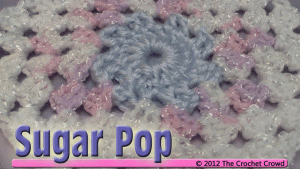 Sugar Pop Baby's First Afghan
Another very soft yarn by Bernat using the Bernat Baby Coordinates Yarn. The yarn glistens and is perfect for a new baby. It's easy to crochet with and provides and outstanding final presentation. The afghan will measure about 39″ square when completed.
by Michael Sellick – The Crochet Crowd
©2012 The Crochet Crowd
Square Afghan will measure approximately 39″ square using 6 balls of 100 G or 3.5 OZ yarn balls. Use more balls if desired to be bigger.
Materials:
Size G Crochet Hook or 4.5 MM
Yarn:
4 Balls – Bernat Baby Coordinates Yarn, 100 g or 3.5 oz Balls, used 2 Pink Parades & 2 Whites
2 Balls – Bernat Satin Yarn, 100 g or 3.5 oz Balls or light blue
Each colour has 2 rows before switching colours. The centre has a round middle instead of a conventional granny square look to it. You can change this to match your own personality or have one solid colour afghan. You're the artist, you decide.
Definitions:
CH – Chain, DC – Double Crochet, SC – Single Crochet, SL ST – Slip Stitch, BEG – Beginning, REP – Repeat, 2TOG – 2 Together, DEC – Decrease, SK – Skip
Free Pattern:
Ch 6 and join, ch 3 (counts as 1st dc) 15 dc and join to top of ch 3, 16 dc
ch 4 (counts as dc, ch 1) *dc, ch 1 in each dc around, be sure to count 16 or the next round will not match properly.
Ch 3 and put 2 DC into the same space. *Ch1 and put 3 dc, in the second ch1 space on the previous row. Skip next Ch1 space and put 3dc, ch2, 3 dc, ch1 repeat *twice, sk space, 3 dc ch 1 and join.
Change colour here by fastening off and casting on fasten on new colour. This keeps the centre being rounded in appearance. Ch 3, 2dc, ch 1, skip to next space *3 dc, ch 1, skip to next space 3 dc, ch1, 3dc, ch 2, 3dc, ch1 (corner made) continue from around and join, sl st to corner
Every rotation, repeat step 4. Only change the colour when you desire it. Pattern shows the colours being 2 rows each for every colour before changing.
Get to desired size and fasten off.
Baby afghans are about 38″ – 40″ square. To make bigger just continue or if you want it smaller, quit earlier.