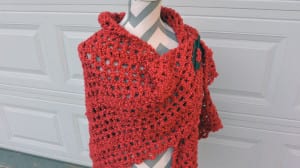 The Boucle' Shawl

A few days ago I wrote about my first experience with Bernat Soft Boucle' yarn.  I am in now in love with this stuff.
Boucle tends to crochet up really quick and you can see your project coming to life right before your own eyes. It definitely feels soft and something to feel cozy with.
If you missed the free patterns I posted, you can find them here:
Assorted Crochet Boucle Patterns
I started with 3 skeins of Rouge colored Bernat that was a gift from a friend.  I choose off my list the Morning Has Broken Shawl.  I finished it last night and couldn't be more please.  The result is a soft and cozy piece that is going to be awesome this fall in my chilly office.  The bulky yarn makes this shawl a really quick project.  And the value of the yarn makes it an awesome gift idea.
I would love to see your Boucle' projects and feature some of them on The Crochet Crowd Facebook page.  Start flooding our wall with what your finished objects using Boucle' yarn with hashtag #thecrochetcrowdboucle.
Be creative! 🙂 – Jeanne – The Crochet Crowd