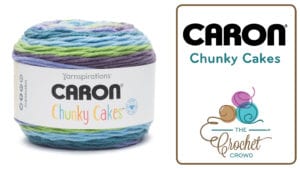 What to do with Caron Chunky Cakes
New to Caron Yarns as of Jan 16, 2018 exclusively at Michaels Canada and Michaels USA is Caron Chunky Cakes. This new addition to the line up satisfies those crocheters and knitters who wanted just 100% Acrylic Yarns. Yep, that's right no wool are in these beauties.
Extremely soft to the touch and a bulky #6 weight, there are now 16 colours to launch this line from scratch.
Ideas
Each of these designs will be in tutorial format during the week of Jan 16th, 2018.
All Colours in the Caron Chunky Cakes Line Up
These colours will be available as of Jan 16th, 2018 in Michaels USA and Michaels Canada Stores. For USA, you have the option to buy direct through online shipping through Michaels.com.