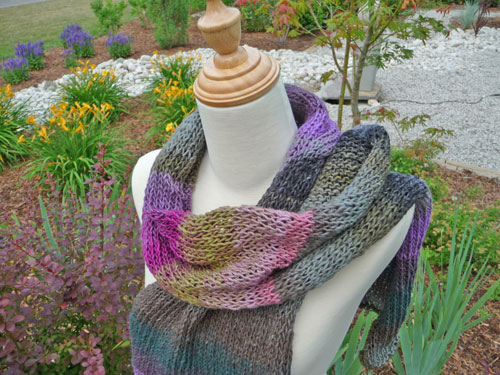 Color Blend Scarf
Automatically knit this fabulous scarf. I called this the color blend scarf. The scarf ends ups being very soft and with colour transitions that are really sweet. This project is about 2 hour to complete. 
By Michael Sellick, © 2012 The Crochet Crowd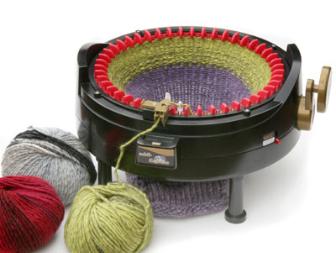 Dimensions
67″ long x 14″ width

One solid peice, no sewing panels together. 
Materials Used
Addi Express King Size Loom Knitting Machine

1.5 Skeins of Bernat Mosaic Ninja Colour 3.5 oz Balls or 100 g

1/2 Skein of Bernat Mosaic Fantasy Colour 3.5 oz Ballsf or 100 g
---
 
2 Hour Project
Looking at the picture on the left of the scarf. The crank knitting was started on the bottom of photo and going upward. You will see new colours about the half away point. The new colouring is the Bernat Fantasy Colour. I then added on a second ball of Bernat Mosaic Ninja for the final 1/4 of the scarf and used that same ball to double crochet all the way around the scarf. 
Instructions:
Using only 42 Hooks, stopper will be needed for this. Stopper between 44 & 45 Hooks. 

Set the Addi Express LEVER on side to Plain Knitting. 

Cast on with Bernat Mosaic Ninja. Crank knit back and forth for the entire skein.

Tie on Bernat Mosaic Fantasy and crank knit approximately up to 1/2 of the ball. Cut String and tie on Bernat Mosaic Ninja (second ball). 

Crank the final Ninja ball about 1/2 way down. 

Bind off. 

Using Crochet Hook, Double Crochet into the stitches all the way around the scarf. 

Fasten off and weave in the tails.