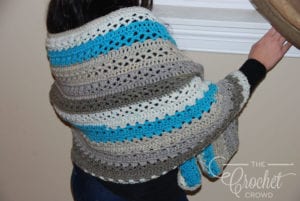 Crochet 2 Cake Shawl
This simple Caron 2 Cake Shawl is a variation of the Nightberry Shawl that I crocheted last month.  My friend Megan McHugh really enjoyed the stitch pattern of the Nightberry, but preferred a rectangular-shaped stole design.  Megan reworked the pattern and crocheted hers using 3 balls of Bernat Pop yarn.  I like crocheting with Caron Cakes and was able to make mine with only 2 Cakes.  Either way, the long color repeat creates a really pretty shawl.

The rectangular shape drapes nicely around the shoulders, but also can be worn around the neck for a thick scarf for the winter.  This cake shawl would also be perfect for your charity giving to comfort a loved one or as a prayer shawl.
Finished size is 22″ x 64″
2 Cake Shawl
Design collaboration of Megan McHugh and Jeanne Steinhilber
Caron Cake – 2 Balls – Cake Pop
Crochet Hook 6.0mm Size J
Ch 3 at beg of each row counts as a dc.
Ch 172
Row 1:  Dc in 4th ch from hook and each ch across.  Turn.  – 170 dc
Row 2:  Ch 3, sk next st *(dc, ch 2, dc) in next st, sk 2 st; rep * until 3 st remain, (dc, ch 2, dc) in next st, sk 1, dc in last st.  Turn.  – 114 dc, 56 ch-2 sp
Row 3:  Ch 3, 3 dc in each ch-2 sp across, dc in last st.  Turn.  – 170 dc
Row 4:  Ch 3, dc in each st across.  Turn.  – 170 dc
Row 5 thru 34:  Rep rows 2 – 4.  Turn.
Edging – Sc in each st across, 2 sc in end of row, turn work to crochet into the side edge, working 2 sc into the end of each row, rep around and sl st to beg sc.  Finish off.