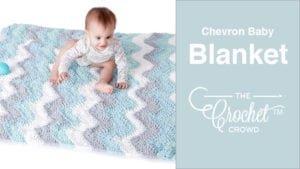 Crochet Baby Chevron Blanket
Introducing the Crochet Baby Chevron Blanket by Yarnspirations. Using Bernat Baby Blanket Stripes, the colours you see come out of the ball as is. So for beginner crocheters who don't like to tie knots or struggle with colour play, the yarn has it all worked out for you.
Everything is in sets of 3. 3 up, 3 down and two sets of 3's at the tops and bottoms.
It's as easy as 1, 2 and 3.
Use the tutorial below if you need more help.


Tutorial
Note, the tutorial sample shown is a different blanket but is the same stitch pattern. The only difference is the starting chain is 87 stitches instead.
More Baby Blanket Ideas