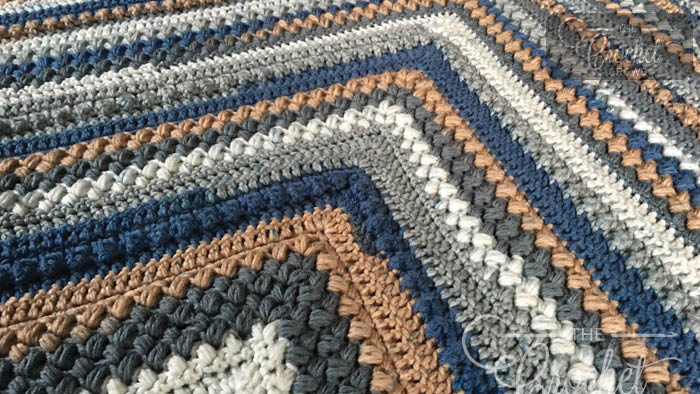 Crochet Beans & Bobbles Mitered Afghan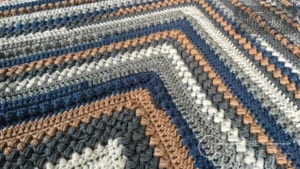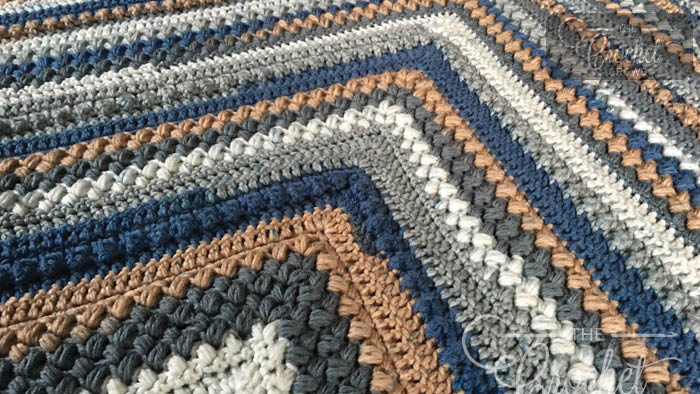 Crochet Beans & Bobbles Mitered Afghan
This is the third afghan in the #CrochetBB series.  This afghan features a large, mitered square, that is then easily turned into a rectangle after the width is established.  Similar to C2C afghans where you work the width, then the length, but the mitered crochet square makes it even simpler.
I used Bernat Softee Chunky Stripes yarn in Hazy Summer Pond to crochet this textured afghan.  The wonderful thing about the #CrochetBB afghans is that the texture is the same on both sides, which makes them reversible.  You could substitute worsted weight yarn and change your hook size to match and get the same afghan.  You would just need to continue crocheting your square until you reach your desired width.  You could also stop with a square and not make a rectangle.  The choice is yours, you are the artist.
When you upload your project to The Crochet Crowd Stitch Social Group or Instagram, please use #CrochetBB so I can see what you have crocheted.  Follow me on Instagram @ jeannestein.  My designs can also be saved in your Ravelry favorites by following me HERE.
The third page is only photos of my final afghan, so if you prefer to save ink, just set your printer to only print page 1 and 2.
More #CrochetBB Ideas
More Bernat Softee Chunky Ideas
Designs by Jeanne