Bold Blanket Patterns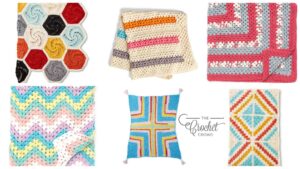 I'm blanketly obsessed this should really come to no surprise to anyone by now at this point. High-Fives to everyone else that's with me in this cozy obsession!
When scouting for patterns of what I'd like to wip up for the house (this list much like my appetite, is bigger than it should be) I look for one that is either full of fun textures that will most likely challenge me and teach me stitches along the way, one that really gives me a chance to play with colours, as well as most likely uses up leftover yarn or uses those balls that I just had to have cause it was so pretty with no real actual plan in mind for it.
This collection is the latter, the fun, play with colour, use up those bits, see how crazy yet pretty I can make it, kind of blankets. Enjoy and happy stitching!
---
Crochet Corner to Corner Motifs Blanket Pattern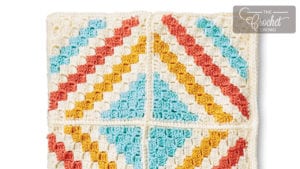 I personally have not braved that style that is C2C, and am in total awe of those who can just fly through them saying awe their super easy. My brain and hands can seem to get it together and cooperate with how these are supposed to work. I am determined to eventually get there and when I do this Corner to Corner Crochet Motifs Blanket Pattern is defiantly on my list to be done. I have quite a few part balls that this blanket would be great for.
This C2C Motif's Blanket was made using Caron® Simply Soft® which is really pretty when it's worked up. but you can easily do this pattern in any worsted weight.


C2C Tutorial
C2C Border Tutorial
Crochet Hexagon Blanket Pattern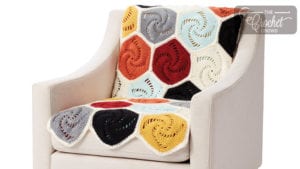 The centres are swirling in this rich looking Crochet Hexagon Blanket. This consists of 14 rounds and the swirls are easy to remember. It reminds me of a pinwheel spinning, I used to love playing with those as a child... ok still do.
The first time doing the motif, you will likely be slow and a bit tight with tension until you get the hang of it. The motifs will go much faster and looser as you go.
Take note the pattern is worked in a continuous round up until the end of round 11. So you will need a stitch marker to ensure you are counting your rounds right.
This Hexagon Blanket was made using Caron® Simply Soft® which is such a pretty yarn I love how soft it is too.
Use the tutorial below for extra help with this pattern if needed.


Tutorial
Crochet Mitered In The Middle Blanket Pattern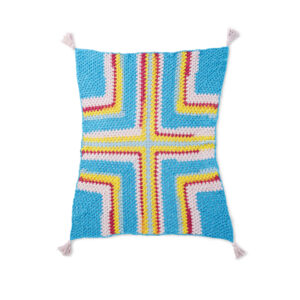 This Mitered in the Middle Crochet Blanket looks like it has the potential to be super fun. This blanket was made using Bernat® Blanket Breezy™ which is a cake and was worked up how it came out of the ball, which by all means you can certainly do, myself I think if and when I work up this blanket I would prefer to try to control the colours.
There is a fabulous pillow pattern the Mitered Squares Crochet Cushion that would go quite well with this blanket. I mean if you're going to make up one, you should really probably make both haha...


Crochet Rainbow Blanket Pattern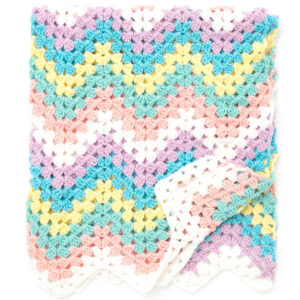 I am a huge fan of The Granny Stitch its really versatile for such a simple little repeat. So when I saw this blanket I was excited, I love the look of the chevron however I can't neatly do a normal chevron for the life of me, but in a granny version, I'm all over it!
This Rainbow Blanket is such a pretty yet simple blanket especially in the shades of Bernat® Giggles™  that was used in this pattern. When I get around to making up this blanket I might just have to add tassels to the points on the ends of the blanket or I might just make it into a shawl size and add tassels to that.


Crochet Big Granny Baby Blanket Pattern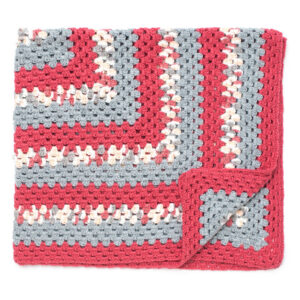 I may have mentioned that I love the Granny Stitch, in case you may have missed it, I'm rather partial to the granny. I love the look of this Big Granny Baby Blanket pattern, it has such a timeless classic feel to it. Playing with colours you can have a lot of fun with this blanket.
The Big Granny Baby Blanket pattern was made up using BERNAT® SOFTEE BABY, and although its a baby blanket you can easily make it larger to fit a bigger sized bed you just continue the rounds and rotating the colours as you were till you reach the size that you are looking for.


Rectangle Granny Tutorial
Crochet Pop-A-Minute Baby Blanket Pattern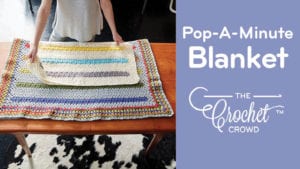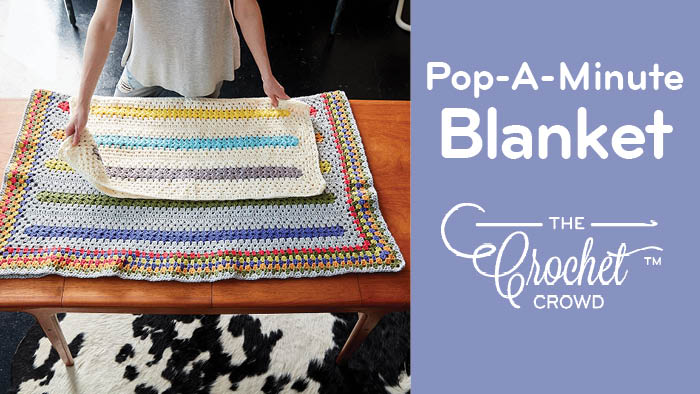 Crochet this Pop-A-Minute Baby Blanket as a cute little gift for a baby shower or for someone close to you for your own baby or grandbaby.
This baby blanket plays off the long colour stripes in the Bernat POP! yarn. The blanket is crocheted in stripes and attached. Using the solid colour from Bernat Super Value yarn.
If you are looking for something fun to crochet, this may be up your alley.


Tutorial
Pattern Suggestions
More Crochet Blanket Pattern Ideas